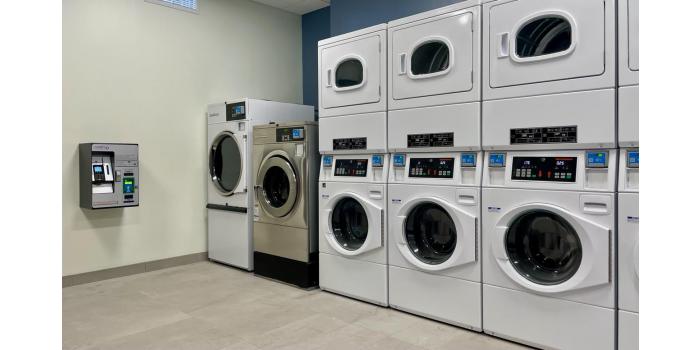 On-site laundry continues to be a sought-after amenity for those looking at renting an apartment or condominium. As a landlord or property manager, there are many components that go into maintaining a multi-housing facility. Having to manage the shared laundry element can seem like a daunting task, but it doesn't have to be! Coin-O-Matics revenue sharing plans are a great alternative with many benefits.
We have compiled a list of the top 6 ways that Coin-O-Matic can help your bottom line!
You don't have to stress about issuing refunds, replacing the cost of damaged clothes, paying for repairs, or any other issues. By having Coin-O-Matic lease your shared laundry room, we handle equipment installation, repairs, and customer complaints, giving you peace of mind!
Purchasing multi-housing laundry equipment can add up quickly and become a sizable investment. Leasing your multi-housing laundry room to Coin-O-Matic means there is zero upfront costs to you! This allows you to retain your capital and put it to use in other areas of your property.
Laundry equipment requires maintenance and upkeep often requiring additional expertise. Partnering with Coin-O-Matic eliminates that stress. As your laundry distributor, we will handle all maintenance and upkeep with minimal downtime.
Collecting cash is not an easy task, plus banks do not like to accept any coins these days. Coin-O-Matic eliminates all this hassle as we collect all the coins and cash thus taking another painful task off your checklist.
On-site laundry continues to be a highly valued amenity among renters, leasing your multi-housing laundry room to us will help you improve that space, so you can attract new tenants as well as increase retention among your existing residents.
Leasing allows you to provide a great laundry experience for your tenants! The washer and dryers provided are always top-of-the-line energy-saving models and equipped with advanced controls plus cash, smartphone, or card payment systems.
Coin-O-Matic offers customized multi-housing revenue sharing options for multi-housing facilities tailored to you. If you are ready to upgrade your laundry room experience and remove the added stress from your plate, multi-housing laundry room leasing may be a good fit. Contact our leasing specialists today to develop a proposal that is the right fit for your business!
Tagged: Multi-Housing Laundry