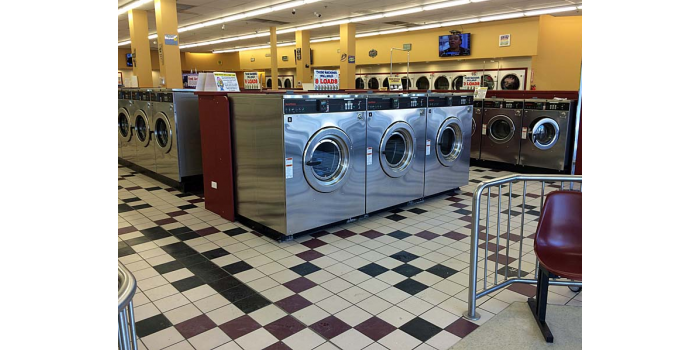 There's a big difference between a "good" laundromat and a "good enough" laundromat. In a busy metropolitan area like Chicago and beyond, there's a lot of competition both from other laundromat facilities and even on-premise laundry equipment in apartment complexes and condominiums. To stand out and encourage customer loyalty at your vended laundry business, you really need to offer what your customers want. What is that exactly? Well, here are just a few of the things you should consider offering at your laundromat:
1. Wi-Fi
A strong internet connection will set you miles apart from laundromats that don't currently have this amenity for patrons. More than 77% of Americans own smartphones, so having a strong Wi-Fi connection is almost expected in today's day and age. Wi-Fi allows patrons to work or play games on their electronic devices as they wait for their laundry to finish, which provides added convenience and encourages patrons to stay longer and (likely) spend more money. It's an especially helpful perk for parents who need to keep their kids occupied during laundry time. 
2. Wash-Dry-Fold Service
The majority of Americans work overtime. Add in family obligations, hobbies, and volunteering, and there's not a lot of time left over. That's where wash-dry-fold service comes in. You can take one obligation and to-do item off the plate of your customers while creating extra revenue opportunities for yourself. It's an especially great way to attract new customers who have additional income to spend on luxury and convenience services, like full-service laundry and dry cleaning. Particularly in urban areas, it's a great way to stand out from the competition and on-premise laundry options.
3. Alternative Payment Methods
Laundromats have evolved way beyond coin only. If your facility hasn't jumped on the credit card or app-based payment systems, you could be missing out on a lot of revenue. Only 12% of the population notes that cash is their preferred method of payment vs. more than 70% that opted for debit or credit cards. Rather than making your customers go out of their way to get cash, why not make it convenient by offering a payment method they already have on hand? Customers will love the added convenience and choose your laundromat over the cash-only facilities.
4. Advanced Commercial Laundry Equipment
No matter what else you offer your customers, it falls short if you don't offer the one thing that brings them into your business — laundry equipment. Not all washers and dryers are created equal, even at the commercial-grade level. Coin-O-Matic is a proud distributor of Speed Queen laundry equipment. The advanced Speed Queen technology makes it easy to monitor and manage your laundry business. Plus, customers will love the fast cycle times and state-of-the-art Quantum Controls, which allow for total control over their wash and dry cycles. Having new, updated commercial laundry machines will make your laundromat stand out from the other businesses who have fallen behind the times.
Let's take your laundromat to the next level
Considering opening a laundromat or upgrading your current facility? Our laundry experts are here to help make your laundromat the best it can be. Contact our Laundromat specialists today to chat about how you can open, grow, or improve your coin laundry business.