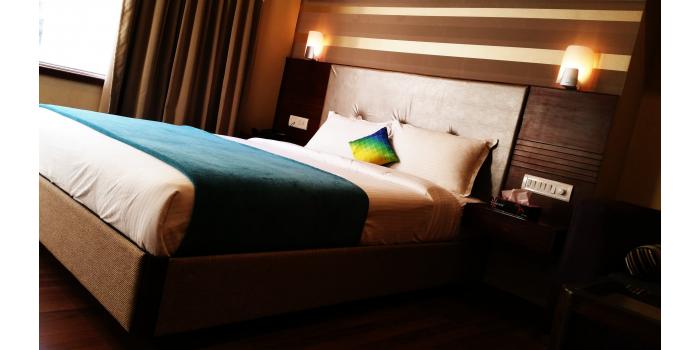 When it comes to hotels, laundry equipment is about more than just doing laundry. It's about providing a clean, comfortable stay for your guests that feels like home. Without high-quality commercial laundry equipment built to tackle the unique needs of your hotel, motel, or resort, you won't be able to adequately serve your guests. More importantly, it means cleanliness will suffer, as will efficiency and your guests' satisfaction with their visit. Let's dive into why having high-quality laundry equipment is important to your hospitality business and how it can help up your came.
Cleanliness
Imagine checking into a hotel after a long day of traveling, pulling back the sheets on your bed, and noticing stains or discoloration. Gross! A dirty room can prompt your guests to run for the exit, demand refunds, and post negative online reviews that have a long-term impact on your business. If lack of cleanliness isn't are bad enough, you may also fail necessary health inspections, cause serious health problems for your guests, or even have pest issues.
While there's more to cleanliness and sanitation than laundry, there's no denying that laundry is a big part of it. Having the proper equipment to tackle your laundry needs is not just important, it's necessary. With more than a 110-year history of building the most reliable and advanced laundry equipment, you can trust that Speed Queen machines will give you the best wash every time. No exceptions.
Advanced Speed Queen Quantum Controls allow you to customize the wash and dry cycles.

You can customize cycles for specific fabrics and adjust the temperatures, water levels, and chemical use for the best clean.
Fast cycle speeds reduce the time dirty linens are laying around.

Dirty linens aid in the spread of germs and bacteria that can harm your guests, so the sooner the laundry is clean, the better off everyone is.
Commercial-grade machines will allow you to tackle difficult stains and fabrics.

 You never know what you're walking into or what guests leave behind, so it's best to be prepared to handle anything that's thrown at you, from bulky bedspreads to fluffy towels.  
Customer service
According to the American Hotel & Lodging Association, there are more than 54,200 hotel properties accounting for more than 5 million guest rooms in the United States. Closer to home, Chicago offers more than 41,000 hotel rooms within the Central Business District alone. That's a lot of competition! The hotels and motels that go above and beyond for their guests are going to be the ones with consistently filled rooms, especially in competitive metropolitan areas like Chicago.
So how can commercial laundry equipment help you provide better customer service? Great question!
Fast cycle speeds allow laundry to be done quickly.

The faster the laundry is done, the sooner rooms are ready and the faster you can serve more guests. Quick service and clean rooms make for happy guests, and happy guests make for full rooms and a profitable hotel.
You can offer additional services and amenities that help you outshine the competition.

The more services and amenities you offer at your hotel (such as offering bathrobes or a full-service or on-site laundry room for long-term guests), the more laundry you'll have to take care of. The right commercial laundry equipment can help you tackle the additional influx of laundry with ease, allowing you to expand services to best meet your guests' needs.
Efficiency
Any savvy business owner is going to look at how to make their business more efficient. That involves finding new ways of saving time and money. On-premise commercial laundry equipment can save you both.
Machines are easy for staff to use.

The Speed Queen machines and advance Quantum controls are simple, which means minimal training and onboarding is necessary for staff. This is especially important if you have a lot of turnover or part-time employees on your housekeeping team since it'll mean less time training and more time actually working.
Don't have to pay for or wait for a laundry service. While sometimes convenient, outsourcing your laundry needs can be pricey. Not to mention you often have to rely on the schedule of the service you're using, rather than one that works best for you. Investing in on-premise laundry equipment means you save money over time, cut out the middleman, and tackle laundry when it works best for your hospitality business.
Energy-efficient machines lower utility costs. Having Speed Queen washers and dryers that are designed with efficiency in mind allows you to reduce utility expenses significantly, which in turn lowers your total operating expenses. The advanced Quantum controls also allow you to control water levels and temperature for optimal energy savings, as well as notifying you of potential issues like leaks.
Get ready to up your game
Not all laundry equipment is created equal. If you're ready to up service and quality at your hotel by investing in Speed Queen commercial laundry equipment or upgrading your existing machines, we're here to here to help.  Learn more about partnering with Coin-O-Matic for commercial laundry equipment at your hotel, motel, or resort.
Tagged: On Premise Laundry