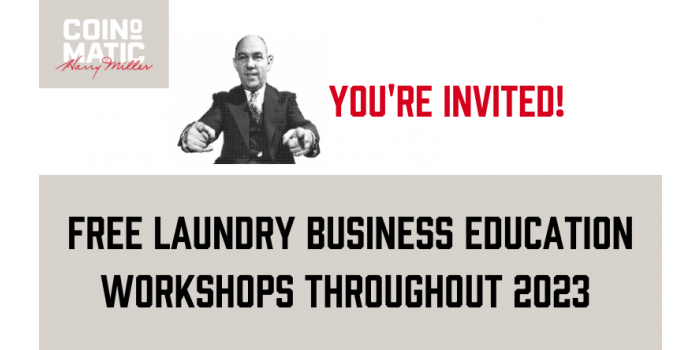 At Coin-O-Matic, we're always here to help our clients through laundry room leasing, and excellent pricing on high-quality, energy-efficient commercial laundry equipment. Although we already exceed expectations in providing the highest level of customer support, we wanted to up our game by adding a free in-person Laundry Business Education Workshop schedule for 2023!
Expert Insights on the Latest Laundry Trends
We have been helping customers around the Midwest to increase revenue for their laundry business for 100+ years. We've learned a thing or two along the way that others may find helpful.  
Our Coin-O-Matic family has sorted through laundry industry fact versus fiction for decades and we've developed these laundry workshops accordingly. No fluff, just useful information for our customers.
With lessening pandemic restrictions, there's never been a better time to invest in the commercial laundry industry, but we know starting a new venture can be daunting. We're excited for the opportunity to connect with laundry investors like you and share our insider knowledge to help increase your profitability through 2023 and beyond. 
Demos of the Latest Commercial Equipment and Technology
At Coin-O-Matic, we believe in empowering the laundry community through hands-on learning and actually seeing the equipment for your laundromat, multi-housing, or on-premise laundry business in action. 
In each educational workshop, you'll get a first-hand look at the latest in commercial laundry innovation. We'll showcase how our machines work so that you can find which one is best to help you meet your business goals and feel confident operating them. 
Many of the features on our Maytag and Speed Queen washers and dryers have advanced technology, such as touchpad controls, payment flexibility, and high extract speeds that improve efficiency and raise revenue for your laundry business. You'll see in person how these commercial laundry machines work and stand apart from the competition. 
Excellent Networking Opportunities
Across the United States, entrepreneurs notice that laundry rooms are highly profitable and can be an excellent form of passive income. That said, networking is a key part of any successful business venture. If you're looking to connect with other laundromat investors and laundry industry professionals throughout the Midwest, then our laundry workshops are for you. 
Through our Laundry Business Educational Workshops, laundry business owners around the country have the ability to learn and network with each other. In addition to learning from our expert team at Coin-O-Matic, there will also be time to connect and learn from each other as laundry business owners. You never know where these connections will lead. Perhaps you'll meet your next laundry business partner — or maybe just a friend. 
Q&A Opportunities
Whether you are new to the laundry industry or have been a laundry business owner for years, there is always room for improvement and growth. Through our free education workshops, you'll have the opportunity to ask our expert team your most burning questions. 
The laundry industry is constantly changing, our target demographics are shifting, and new technology is emerging daily. With all that in mind, questions are expected and encouraged. We make sure to leave plenty of time for a Q&A at every workshop so you walk away feeling confident. 
2023 Laundry Business Educational Workshop Schedule
This year's schedule has expanded compared to the past, and we're excited for you to be part of it.  
Join us on select Saturdays throughout the year while Coin-O-Matic hosts free Laundry Business Educational Workshops from 9:00 AM to 12:00 PM. Each in-person workshop is hosted at our headquarters and showroom in Alsip, Illinois, at 3900 W 127th Street.  
February 18, 2023 – Multi-Housing Laundry Payment System Workshop: Learn About Industry Leading Payment Systems

March 18, 2023 – OPL Live Demonstration Workshop: Why Yamamoto Industrial Washers Are The World's Finest

April 22, 2023 – Laundromat Live Demonstration Workshop: How Maytag Commercial High Speed Washers Make You More Money

May 20, 2023 – Multi-Housing Laundry Revenue Sharing Workshop: Learn How Revenue Sharing Makes Your Residents Happy

June 17, 2023 – OPL Live Demonstration Workshop: How B&C Industrial Washers And Dryers Reduce Your Laundry Operation's Labor Costs

July 22, 2023 – Laundromat Live Demonstration Workshop: How Maytag Commercial Energy Saver Dryers Make You More Money

August 19, 2023 – Multi-Housing Laundry Security Workshop: Simple Tips To Keep Your Residents Safe In Your Laundry Rooms

September 23, 2023 – OPL Folding Equipment Workshop: How Folding Equipment Reduces Your Laundry Operation's Labor Costs And Keeps Your Clients Happy
All laundry business owners and investors from our Midwest service area (including Illinois, Wisconsin, Indiana, and Michigan) are encouraged to attend. Spaces are limited so be sure to sign up now. 
Tagged: Commercial Laundry Equipment