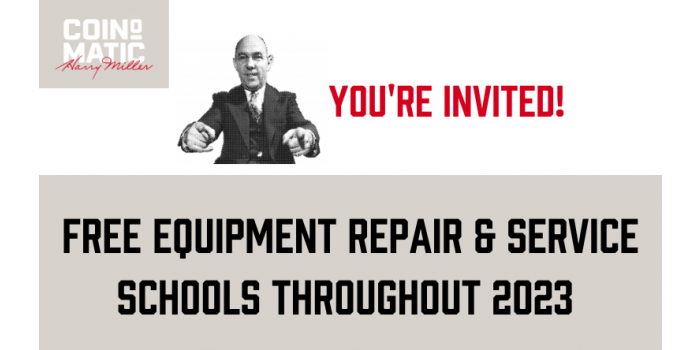 At Coin-O-Matic, we believe in empowering Midwest laundry investors and business owners. That's why we host our FREE laundry equipment repair and service training sessions throughout the year. If you want to learn simple preventative maintenance and repair techniques to keep your laundry equipment running at peak performance, these training sessions are for you. 
Here's a sneak peek of what to expect with these sessions.
Expert Insights From Our Experienced Service Technicians
We've been a key player in the laundry industry and helping our customers to service their equipment for about 100 years. With decades of experience with top commercial laundry brands like Speed Queen and Maytag, we're ready to pass on our expertise. You'll hear all the latest service and maintenance tips, tricks, and insights from our highly trained team of service techs.   
With lessening pandemic restrictions and business owners needing support, we are excited for the opportunity to once again work with laundry business owners to show and describe proper service techniques to use in 2023 and beyond. 
Basic Maintenance Tips That'll Save You Money
Keeping your commercial laundry equipment running at peak performance is crucial to the profitability of your business. Maytag and Speed Queen laundry equipment is made in the U.S.A. and is known for quality, efficiency, and industry-leading warranty. However, it's still important for laundry business owners to understand how to operate their machines. 
In each Equipment Service School, we'll help you learn simple preventative maintenance and repair techniques to keep your laundry equipment up and running for your customers. By understanding your machines, you'll also save time in knowing how to address any concerns instead of calling for repair services, which extends machine downtime.
If you're not necessarily mechanically inclined, don't worry. We cover all the basics that you need to know and go step-by-step. And we'll even discuss which maintenance and repair tasks are best left to the professionals.  
Networking Opportunities
If you're interested in connecting with other laundromat investors and laundry industry professionals, our free in-person Repair & Service Schools are perfect for you! We bring in people from across the Midwest, including Illinois, Wisconsin, Indiana, and Michigan.
Networking is key to operating a successful business and beneficial for growing your understanding of the laundry equipment industry. You can learn from our expert team at Coin-O-Matic while witnessing valuable insight and questions from other laundry business professionals throughout the Midwest. 
Who knows — maybe you'll meet your next laundry business partner, employee, or mentor. 
Q&A Opportunities
Whether you're new to the commercial laundry maintenance or just want insights on servicing the latest washers and dryers, there is always room for learning and growth. Our free Repair and Service Schools will provide you with plenty of time to ask our expert team the questions you've been craving answers to. 
We'll have a Q&A session at each of our Laundry Equipment Service Schools throughout 2023, allowing you to troubleshoot specific issues you've experienced and feel more confident with your equipment at the end of each session.  
2023 Schedule
This year's schedule has expanded compared to what we've done in the past, and we're excited for you to be part of it! Register today for our 2023 Free Laundry Equipment Repair and Service Schools! Each in-person class is hosted at our headquarters and showroom in Alsip, Illinois, at 3900 W 127th Street. 
February 11, 2023 – Speed Queen Top Load Washers

March 11, 2023 – Maytag Commercial Dryers

April 8, 2023 – Speed Queen Commercial Dryers

May 13, 2023 – Maytag Front Load Washers

June 10, 2023 – Speed Queen Front Load Washers

July 8, 2023 – Maytag Multi-Load Washers

August 12, 2023 – Speed Queen Top Load Washers

September 9, 2023 – Maytag Stack Multi-Load Washers

October 14, 2023 – Speed Queen Commercial Dryers
Register for Our Laundry Equipment Service School Today!
Our free in-person Laundry Equipment Services School sessions will run on select Saturdays from 9:00 AM to 12:00 PM throughout January to October. Each class will be held at Coin-O-Matic in Alsip, Illinois, with the intention of helping you make more money for your laundry business. 
Tagged: Commercial Laundry Equipment