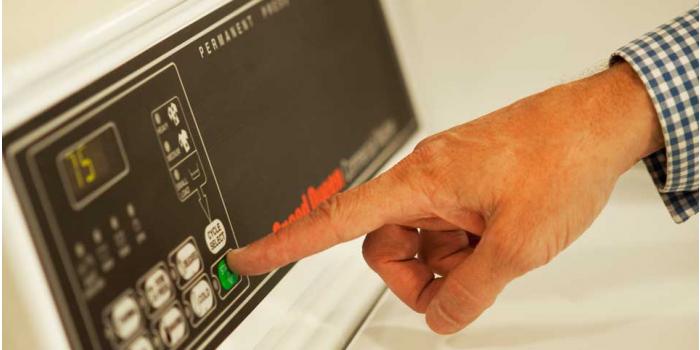 If you're anything like the property managers and landlords we talk to, you're always looking for new ways to up your game and improve your property, which in-turn increases sellability and profits. While you might be looking at upgrading to hardwood floors in the units, adding a secure entrance, or upgrading in-unit appliances, have you considered the laundry room? This area often gets overlooked, yet laundry is a top amenity among today's renters. If you're not considering upgrading the community laundry room in your property, here's why you should.
Attract Qualified Renters
A clean, well-maintained community laundry room in your residential building automatically makes your facility more attractive than the numerous rental properties that don't offer that necessary amenity. When people are looking at apartments, duplexes, and other rental properties, laundry is a top concern. The convenience of on-site laundry is a huge selling point for potential renters who want to avoid the hassle of constantly going out to wash their clothes and planning their schedules according to the nearest laundromat's hours of operation. They can also avoid the financial and physical burden of purchasing and moving large washers and dryers to and from already cramped rentals that only provide washer and dryer hookups.
They Create a Sense of Community
While socializing may not be the first thing that comes to mind when doing laundry, community laundry rooms can be a great place for residents to meet one another. Communal spaces in a residential building – like laundry rooms – provide a no-pressure, non-invasive space for tenants to get to know fellow residents and provide an immediate ice-breaker and conversation starter. Fostering a sense of community and providing spaces for your residents to connect can help to improve building safety and security, avoid major personal conflicts among tenants, and make your apartment complex a more neighborly and welcoming place to live overall.
The busy moving season is around the corner.
Spring is here, which means summer will be here before you know it. Because it happens to coincide with the end of the semester at universities and the Midwest weather becomes more conducive for moving, this is also the time of year when a majority of tenants decide to move or start looking for a new apartment.
Laundry is a top amenity that many renters are looking for as they're on the hunt for a new apartment. By investing in your rental property and outfitting it with top-of-the-line commercial laundry equipment for renters, you have a major selling point when it comes to attracting new renters and reducing turnover among existing tenants in the coming months. This can help minimize empty units come fall and winter when people are already hunkering down and it's harder to find new renters.
It's spring cleaning season.
Many people are in spring-cleaning mode! Students will have breaks from school and families will be taking advantage of the extra time at home to clean up and get organized — and that includes laundry.
With that in mind, you want to be sure the laundry room at your apartment building is clean and ready to handle increased demand from your tenants. By upgrading your multi-housing laundry room with high-quality vended laundry equipment from Speed Queen, you'll also be setting yourself up for increased revenue opportunities and fewer maintenance hassles during this peak time.
Upgrades don't necessarily have to mean big upgrades, like new washers and dryers, either. Why not get in the spring cleaning spirit yourself and make some more subtle improvements to the shared laundry area in your residential property. A fresh coat of paint, repairing cracks and broken tiles, or rearranging the flow of equipment can go a long way to making the space more inviting and functional for your tenants, therefore increasing satisfaction and reducing turnover.
Save money.
If you haven't upgraded the laundry equipment in your multi-housing facility in a while or haven't previously offered laundry services to renters, you're in for a big surprise. Design improvements and advanced features — like auto water leak detection, auto shutdown, low power mode, and programmable water levels — can impact your bottom line significantly.
In fact, one new Speed Queen washer-extractor can save almost 7,000 gallons of water per month. Multiply that across a full laundry room set up and you're sure to see a dramatic difference on your utility bills. Plus, advanced monitoring will allow you to keep a careful eye on machine performance from anywhere, which is crucial for property managers who aren't on-site every day. This will allow you to troubleshoot problems and detect leaks and other issues that can end up raising your utility bills and costing you a lot in repairs.
Time for an upgrade?
If you're interested in turning your shared laundry area into a marketable and profitable area of your rental property, we can help. Coin-O-Matic has been serving multi-housing facilities throughout Illinois, Indiana, Michigan, and Wisconsin for 100 years. We have a variety of vended and non-vended laundry equipment for apartments — including top load washers, front load washers, dryers, stackable units, washer-extractors, and more. Call 708-371-9595 to get started!
Tagged: Multi-Housing Laundry