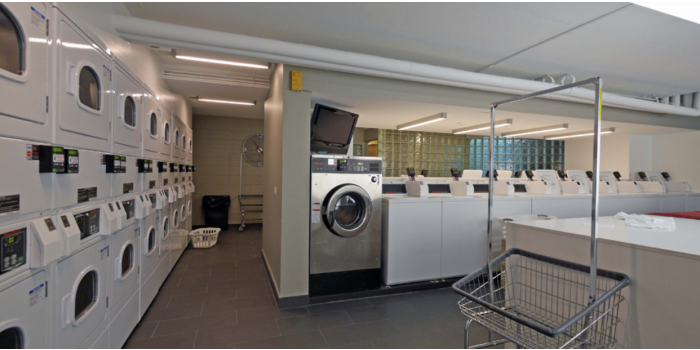 For years, community laundry rooms in apartments, condos, and other residential facilities have been viewed as dimly lit and run-down spaces where residents are forced to do their laundry. Many are unfriendly, unclean, and full of run down or broken machines. With conditions like this, residents aren't willing to pay more monthly for laundry services. 
The most appealing laundry rooms are clean and efficiently run, allowing users to clean laundry quickly in the space where they already live. Well-designed multi-housing laundry rooms give landlords, property managers, and investors an advantage in attracting and retaining qualified tenants. 
Extra Income Opportunities 
 Overall, having a community laundry room within your multi-housing unit can provide your business with extra income opportunities. 
Although there is an initial cost to purchase commercial laundry equipment, the money that you'll generate for your business through consistent use and appreciation for the space will more than cover that amount. You can charge per use for the vended washers and dryers and potentially increase monthly rent prices to account for the additional amenity. 
You can also sell laundry detergent, dryer sheets, and other necessary items to complete a user's laundry cycle in your community laundry room. Food and drink vending machines are also helpful for creating a sense of comfort and community while being an additional income opportunity for you. 
Save on Energy and Water Consumption
 In areas across the United States, people are becoming more aware of their water usage and taking the necessary steps to decrease their overall environmental impact. A study from Maytag shows that the average family washes about 300 loads of laundry per year, and ENERGY STAR washers can save more than 2,000 gallons of water a year. 
Look for machines that give you the advantage of energy conservation with each cycle. Most of the energy used for loads of laundry is from heating the water. Gas water heaters are more efficient and can increase the overall efficiency of your community laundry room. Because of this, choosing gas versus electric washers and dryers is also beneficial for energy conservation. 
The energy-efficient washing machines we sell at Coin-O-Matic from top brands like Speed Queen and Maytag are created to do more efficient loads of laundry with agitators that deliver superior washability with an eversmooth transmission.
In an article from Speed Queen, they compared their top load machines with their front load machines for water consumption and found that their annual energy cost was similar and very low; $10 for top load washers and $8 for front load washers. 
Make the Most out of Your Space
Washers and dryers in each unit are handy, but take up valuable space that tenants want and need. And we all know that space is at a premium, especially in crowded areas like Chicago where the average downtown studio apartment is only 551 square feet. 
With a community laundry room, tenants can do their laundry at the place they live without taking up space in their living environment. And as a landlord or property manager,  you can maximize the square footage of your properties by having a common area that tenants will actually find useful. 
Stack washers and dryers are a great option to minimize the amount of space that's being taken up while maximizing the amount of laundry that can be done in the room. 
Easy Maintenance
 With a community laundry room, maintenance is easy and the best option for upkeep. 
You won't have to go back and forth with renters communicating times for maintenance and repairs. Having all your machines in one place allows you to maintain all machines at once, and you'll be notified immediately if a laundry machine is down. 
And when buying from a trusted Midwest laundry equipment distributor like Coin-O-Matic, you don't have to worry about maintenance. We have a team of trusted service technicians to repair your equipment and even offer laundry room leasing where the stress is off your plate completely.  
Community Building
 Community laundry rooms are perfect for supporting your tenants and allowing them a space to easily clean their laundry while getting to know each other. This laundry space also makes your building a more welcoming space for people to live in. 
By offering a community laundry room for your tenants, you can help to increase the safety of your building through recognized faces in the building while decreasing resident turnover through a solid-built community of tenants who respect and know each other. 
Creating this strong sense of community will ensure a steady rental income from your tenants, along with minimized marketing efforts on your part since your space will remain filled.  
With the right equipment and placement, your on-site laundry room will be an excellent space for tenants to gather. 
Contact a Commercial Laundry Equipment Specialist
We're always here to help you to choose the right laundry equipment for your community laundry room. Since the 1920's Coin-O-Matic has been helping with commercial laundry equipment sales, services, and leasing. We're 100% committed to serving you! Contact us today to get started in finding the right equipment for your laundry needs in Illinois, Indiana, Wisconsin, and Michigan.
Tagged: Multi-Housing Laundry Commercial Laundry Equipment