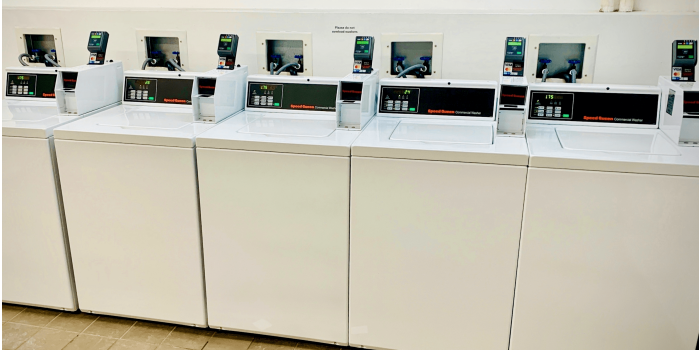 Investing in commercial laundry equipment for your business is just that — an investment. Getting the right commercial laundry equipment is key and it's not a decision to take lightly. But with lots of great laundry brands and technology out there, how do you know what's right for your business? Well, as a top Midwest laundry equipment distributor for more than 100 years, we know a thing or two about helping businesses across industries find the right commercial laundry equipment to meet their needs. Now, we want to pass that expertise along to you! If you're looking for washers, dryers, and other laundry equipment for your laundromat, multi-housing, or on-premises laundry facility, keep the following tips in mind. 
Know your industry
The first step to purchasing commercial laundry equipment is to truly understand your laundry needs and business operations. There's a whole range of capacities, features, and laundry technology available, so understanding your business needs will help you make the right decision. 
Every laundry business is different
What works for one laundry business might not work for another. 
For example, an apartment may have a shared laundry area where they charge their residents per load, in which case they'd want coin-operated washers and dryers. However, some apartment complexes may offer free laundry access as a perk to residents. In that case, they'd want non-vended laundry equipment. 
Another great example has to do with balancing frequency and capacity. A hotel or health care facility may have large loads of bulky bedding that require a larger capacity machine. Generally, they'd only need to wash bedding once or twice per day when housekeeping cleans the rooms. 
A fitness center or spa, on the other hand, likely needs clean towels frequently. A lower capacity washing machine would allow them to wash smaller loads of towels continuously throughout the day (without having to wait until they have enough dirty linens to fill a large capacity machine).    
These are just a few examples, but they highlight the importance of knowing your business and laundry needs before purchasing commercial laundry equipment. Oftentimes, you may need a combination of different capacity washers, dryers, and other equipment to meet your needs. 
How to figure out the right laundry solution
 Not everyone lives and breathes laundry equipment like we do here at Coin-O-Matic, so figuring out what equipment might work best for your industry or business can be daunting. Plus, the right solutions vary depending on your industry, facility, and more. Where do you start?
First, do some industry research. Talk to colleagues, partners, and trusted mentors. How do they handle laundry for their business? What commercial laundry distributor and brands do they use? What experiences have they had? You can learn a lot by asking around from others in a similar industry. 
Next, be sure to connect with us! We have almost 100 years of experience working with all types of businesses throughout the Midwest! We'll offer our knowledge and expertise to help make sure your laundry equipment investment helps you reach your business goals. 
Research laundry equipment brands 
Here are Coin-O-Matic, we're proud to offer many of the top and most-recognized brands in the laundry industry, including:
From different features to varying prices, every laundry equipment brand brings something different to the table. To figure out which one is best for your laundry business, take some time to research the various brands. 
Internet
The internet makes it easy to dive in and learn more about the various commercial laundry equipment brands on the market. 
Browse websites to read digital product brochures and product descriptions

Watch demo videos to learn about the various features

Use chat features and email to connect with the manufacturer or your distributor. 

Read customer reviews for additional insights. 

Attend virtual webinars.
In-Person
The internet is great, but there's nothing compared to seeing the equipment in person. Once you've done some online research, don't hesitate to see the equipment up close and personal. 
Visit showrooms

Attend trade shows

Sign up for on-site events and training sessions
Keep in mind that things are a little different right now due to COVID-19, so in-person opportunities may be more limited for the time being. The Coin-O-Matic showroom, located at 3900 West 127th Street in Alsip, Illinois, is open. We'd love to show you all of the great brands we have available! We ask that you call or email us before stopping in so we can take the necessary safety precautions. 
Key Things to Consider When Purchasing Commercial Laundry Equipment
 While you're mulling over various commercial laundry equipment brands and features, consider these key things when purchasing commercial laundry equipment.
Plan a budget and stick to it. You want to make sure your investment is a solid one financially and that it fits in your long-term business plan. 

Check the equipment warranties. This will help you rest easy in case there are unforeseen issues or damage to your washers and dryers during the installation process.  

Know the square footage of your facility. This will help you maximize the space available in your laundry room. Stackable washers and dryers can be great for smaller areas. 

Eco-friendliness. Energy-efficient machines will help you cut down on water and electricity and save you money over time. You'll get more bang for your buck in your investment. 

Controls and technology. You want to make sure the machine is easy to use, operate, and maintain. In addition, consider the technology and features that will keep your business relevant and profitable in the long term. For example, cashless payment methods, easy tracking and reporting capabilities, and smartphone app integration are all great options.  
Ready to find the perfect laundry equipment solution for your laundromat, multi-housing, or on-premises laundry facility? Let's get started. 
Tagged: Laundromats Customer Service Energy Efficiency Events Multi-Housing Laundry On Premise Laundry