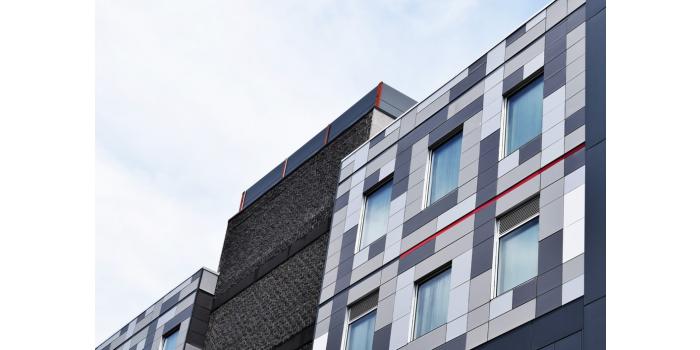 Space is at a premium, especially in bustling metropolitan areas like Chicago and the surrounding suburbs. If you're like many Illinois and Indiana property managers and landlords that we work, you've probably experienced the challenge of trying to maximize limited space in both individual units and shared spaces, like the apartment's community laundry room. Tight space and limited square footage is something we hear about and deal with all the time for our multi-housing customers. Have no fear. Even small spaces can make for a great laundry area that tenants and potential renters will enjoy. Here are a few tips to help you maximize space in your apartment's in-unit or community laundry room.
1. Use stackable washer and dryer units
Stacked washer and dryer units are a great option when space is at a premium in your residential building. You get double the capacity of a single machine while using only 50% of the floor space! Plus, these stacked laundry units allow you to utilize the same laundry connections and hook-ups required by a standard washer and dryer, so you won't have to make any changes during the equipment installation process.
Shop Now:
Speed Queen Coin Operated Stack Washers and Dryers
Speed Queen Coin Operated Stack Dryers
Speed Queen Coin Operated Stack Tumble Dryers
2. Utilize wall space
Make sure you are taking full advantage of the open wall space. You'll want to maximize your space by installing cupboards, shelving, and closet rods for hanging clothes throughout the space. This helps keep clutter off the floor and laundry equipment and provides plenty of storage.
3. Take advantage of the space behind the door
Depending on the design of the room, there may be some usable space behind the door. This can be a great spot to store mops, brooms, ironing boards, and wet floor signs. Install some inexpensive hooks or rods and you're good to go. 
4. Use the space under utility sinks and folding tables
If you have a utility sink or folding tables in the shared laundry area or in-unit laundry rooms, there may be space available underneath them. This can be a great place to put even more shelving or drying racks or to keep garbage cans and recycling bins out of the way. 
Take your community laundry room to the next level!
Coin-O-Matic has been helping property managers and landlords maximize space and profits in their apartment laundry room since the 1920s. Big or small, we've got the commercial laundry equipment and expertise you need to turn your laundry room into a space your tenants will love. Want to learn more?
Read More:
8 Ways to Make Your Community Laundry Room Stand Out to Renters
Speed Queen Commercial Laundry Equipment: A Win-Win for Landlords and Renters
4 Reasons You Need a Community Laundry Room in Your Residential Building
Community Laundry Room Vs. Individual Laundry Room for Residential Buildings