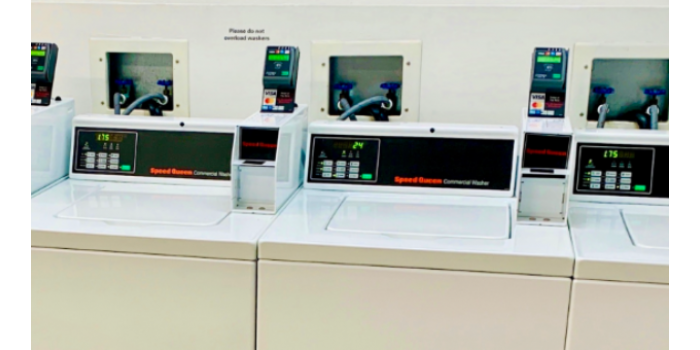 When you're a laundromat business owner, you hope your commercial laundry equipment will last forever – unfortunately, that isn't the case. Laundry equipment that is broken needs to be replaced, but sometimes laundry machines need to be replaced even when they are in working order. You can save time, money, and a lot of stress by upgrading your commercial laundry equipment before it stops working. Let's go over the obvious and non-obvious signs that it's time to replace your equipment. 
Your Commercial Laundry Equipment Looks Outdated
 Having outdated equipment can directly impact your business – your customers will be unsure if the machines will wash and dry their laundry correctly and will be unlikely to return to your laundromat. Generally, customers will go to the laundromats that have updated equipment that looks like it will do the job right that they're paying for. If your machines look old or untrustworthy, you could be losing out on money.
Your Commercial Laundry Equipment Is Constantly "Out Of Order"
Older equipment will consistently cost you more with utility costs and repairs – limiting your overall store profits. Again, customers are not likely to return to a laundromat business if they can't receive the service they're paying for or run into issues using the machines.
Even if your laundry washers and dryers are receiving proper maintenance, there comes a time when you need to replace your commercial laundry equipment to keep your laundromat running smoothly and efficiently. If your equipment is older, anywhere from 10-15 years old, you should consider replacing your commercial laundry equipment now to save you time and money in the long run. Quit wasting time on quick fixes and upgrade your old machines!
Your Commercial Laundry Equipment Is Lacking The Technology Your Customers Want
Technology continues to change, and the laundry industry is no different. Updated laundry equipment technology can improve utility efficiency and security, ensuring customers will be loyal to your laundromat business. One of our favorite updates to laundromat equipment at Coin-O-Matic are the new payment systems replacing coin-operated laundry. These include smartphone apps, credit, and debit card options, as well as live laundry room views.
Keeping your laundromat technology up-to-date will help your business stand out compared to your competitors. If your laundry equipment lacks these features, it's time for you to upgrade!
Your Laundromat Customers Want More
Typically customers will be vocal about what they feel they're missing and want to see in the future. Customers will also want to do more of their laundry in one load than doing many small loads while getting a better clean when paying for it. Another issue could be that you don't have enough machines for the number of customers entering your laundromat, leading to longer wait times. If you can serve more customers at once, you'll be able to increase your business's revenue while guaranteeing your customers' happiness.
Your Utility Bills Are Through the Roof
New commercial laundry equipment will typically cut your utility bills by 50%! These savings can offset the debt payment on your new equipment to the positive. In other words, you can be cash flow positive from day one based on utility savings alone!
You Want To Grow Your Laundromat Business
If you want to grow your laundromat business, now is the perfect time to update your commercial laundry equipment to expand your business! Even if you aren't moving locations or adding to your existing laundromat, updating your commercial laundry equipment will meet the growing demands of your business.
With newer commercial laundry equipment, you'll be able to decrease wait times, provide laundry equipment that will process new technology with better washing and drying capabilities, and meet and exceed your customers' expectations.
Tagged: Laundromats On Premise Laundry Multi-Housing Laundry Commercial Laundry Equipment