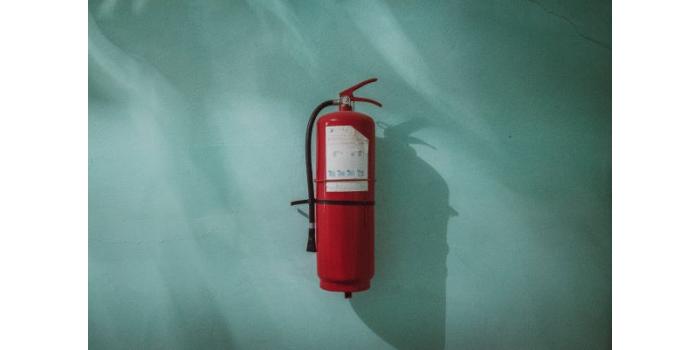 We know that when it comes to multi-housing laundry rooms, safety is a top priority. Laundry room safety and fires should be taken seriously as one false move could endanger your residents and your property. It's always a good idea to keep in mind and be prepared for any bad situation because you really never know what could happen. Check all the boxes to ensure that your multi-housing laundry room is safe for all your residents. It's better to be safe than sorry!
1. Install security cameras and alarm systems
It would be a good idea to install security cameras and alarm systems in your laundry room to prevent any unwanted visitors. The chance of someone breaking in and stealing or vandalizing equipment might be slim, but it's never zero. You want to be prepared for such an occurrence so both your residents and equipment are safe. You really can never be too sure, so it's better to be ready.
2. Clean out lint filter after every use
Display signs near your dryers to remind residents that lint filters need to be cleaned out after every use. Clogged lint filters are one of the primary causes of dryer fires but can easily be prevented. Show residents how to properly clean and dispose of the lint. It's a good idea to regularly check the lint filters to make sure your residents are cleaning them properly. You should also take the thrown-out lint out of the laundry room every so often as lint in a trash can sitting in a laundry room could potentially be hazardous as well.
3. Make the laundry room only accessible to residents
Make your multi-housing laundry room only accessible to residents by installing a lock or card access system. This limits the number of unwanted guests and also makes your residents feel safer. Additional locks and keys are an easy way to increase the security of your laundry room and it comes at a low-cost for the extra safety feature.
4. Handle chemical stains with care
Inform your tenants of the safety precautions that need to be taken when handling chemical stains on clothing. Notify them that any article of clothing with a chemical stain, whether it be gas or cooking oil, should NOT be thrown into the dryer. Chemically stained clothing should be washed multiple times in a washing machine and then hung up outside to air dry. In the event that the clothing absolutely needs to go in the dryer, it is recommended that they set the dryer on the lowest heat setting.
5. Keep soaps and chemicals out of reach for young children
If your multi-housing laundry room provides detergent and other cleaning supplies for residents, be sure that they are kept up on a high shelf where no children can get at them. It's important to remember that many residents may have children, so you need to keep that in mind for safety measures. Even though it is unlikely, a child may find themselves unattended in your laundry room which is why all chemical and hazardous products need to be stored away in a safe place.
6. Clean dryer vents annually
Another laundry fire prevention task is cleaning the dryer vents annually. Even though the lint filters are cleaned after every use, lint can still build up in the vents over time. You can research and learn how to clean the vents yourself, but if you really want good results, you should hire a HVAC specialist. Hiring an HVAC specialist might be a good idea if you have numerous dryers in your multi-housing laundry room.
7. Keep your laundry room well-lit and in a busy location
For extra safety for your tenants, keep your laundry room well-lit and in an easily accessible location. Even with other safety measures in place, having a well-lit room in a busy location will keep from any mischief happening. Install bright lights and be sure to replace any as soon as they burn out because that in itself could be another safety hazard. Keeping a well-lit laundry room will keep you and your tenants happy!
8. Have same-level laundry or provide an elevator
One safety tip that you may not have crossed your mind is having same-level laundry for your residents or providing an elevator for them if same-level laundry is not an option. Stairs can be a tripping hazard for residents, especially when they're carrying large loads of laundry. Having same-level laundry is not only an extra safety measure that you can take, but also makes laundry more convenient for your residents.
9. Install a smoke detector
Lastly and maybe the most obvious safety measure to put into action, install a smoke detector in your multi-housing laundry room. By installing a smoke detector, both you and your tenants will be warned early of a potentially deadly laundry room fire. With an early warning, a fire is likely to be put out quicker and cause less damage, saving you time and money on possible repairs. Installing a smoke detector doesn't cost you a fortune and reduces the risk of any injuries caused by a laundry room fire!
As you can see, there are numerous ways that you can keep your multi-housing laundry room safe and free of fires. If you follow these simple tips, your residents will be kept extra safe and will be grateful for the safety measures that you put in place. When you're ready, reach out to us to learn more about multi-housing laundry room safety and the right equipment that will keep your laundry room safe to use!
Tagged: Multi-Housing Laundry