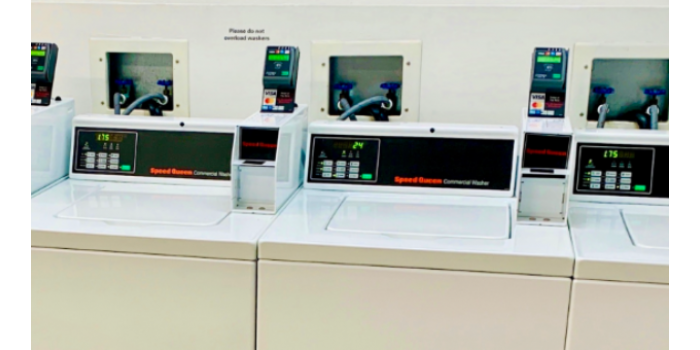 A shared laundry room is a valuable amenity for apartment buildings, condos, colleges, universities, mobile home parks, rehabilitation centers, military bases, correctional institutions, or any other multi-housing community. As a property owner, how do you make your community laundry room stand out? Coin-O-Matic has been offering industry-leading machines for apartments and other multi-housing facilities for decades! We're sharing some of our must-haves for the perfect multi-housing laundry room that is functional, profitable, and a great selling point for your property.
If you're like to outsource your multi-housing laundry room improvements, we can help! Coin-O-Matic has the experience and equipment to make your laundry room the most profitable space in your building thanks to our incredible commercial laundry equipment and innovative revenue sharing programs. Learn more today!
The best commercial laundry equipment
Having the best commercial laundry equipment is key to making sure you have a profitable laundry room. From top load washers, and tumble dryers, to stackable washer/dryer units that save space, there are a lot of options to consider when deciding what is right for your multi-housing laundry room. Look for dependable, high-efficiency brands that design commercial laundry equipment that can stand up to the heavy use of a shared laundry room. At Coin-O-Matic, we've been helping the multi-housing industry curate the best possible laundry room equipment for maximum resident satisfaction and profitability. Here's our list of best-selling multi-housing washers, dryers, and combo units to help you get started!
Best-Selling Commercial Washing Machines
Best-Selling Commercial Dryers
Washer/Dryer Combo Units
Up-to-date payment technology
For years, residents have had to pay for their laundry with coins, making laundry payments inconvenient. With Coin-O-Matic's updated laundry payment technology, residents can pay for their laundry in various convenient ways while using the best commercial laundry equipment in the industry!
Our commercial laundry machines accept:
These different forms of payment technology will allow you to practically eliminate the task of gathering coins from your multi-housing unit, allowing your laundry machines to do the hard work for you!
Touches of home
You want your residents to want to do their laundry in your laundry room, so make it as comfortable as possible for them! Simple upgrades can make a world of difference, when planning your multi-housing laundry room, including these amenities for your residents:
Wi-Fi
Folding tables and drying racks
Utility sink(s)
Soap vending machines
Irons and ironing boards
Comfortable seating
Artwork
Plants and greenery
Space for community announcements
Accessibility & security features
It's imperative that you ensure your laundry room is safe and accessible to all residents. Having these extra accessibility and security measures will provide peace of mind for your residents, and yourself.
Include some ADA-compliant washers and dryers in the mix. Front-load washers are generally necessary for people who use wheelchairs and other mobility devices.
Add ramps, lifts, and elevators to allow easy access for everyone.
Include wide and automatic doorways for wheelchair users.
Design large walkways between machines suitable for wheelchairs, walkers, and other mobility devices.
Provide large-print and Braille signage for those who are blind or visually impaired.
Make your laundry room available to residents only. Install a lock or card access system, to make your residents feel safer, prevent theft, and protect your laundry equipment from unwanted guests.
Install appropriate lighting so all residents can easily see in your room and increase security.
Install a security camera or alarm system. While it is unlikely, there is always the possibility of someone breaking in and stealing or vandalizing equipment.
Contact a Multi-Housing Laundry Specialist!
If you're looking to upgrade your equipment or outfit the community laundry room at your apartment complex or other multi-housing facilities, we can help. Coin-O-Matic will work with you to make your multi-housing laundry room stand out, while being functional and profitable. Contact us to get started!
Tagged: Multi-Housing Laundry Commercial Laundry Equipment Customer Service