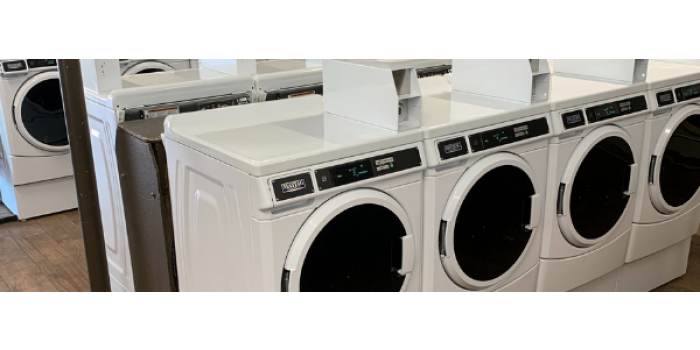 Just like any business owner, we know that you're always looking for ways to maximize your profits. Whether your laundromat is bringing in the big bucks every month or has hit a bit of a slow patch bringing in profits, there is always room for improvement. Luckily, we have some tips for you that will help you bring in more revenue! Read on and think about how you can incorporate these ideas into your own laundromat!
Laundry Services
Adding different laundry services is a great way to maximize your laundromat profits. Some services you could charge extra for include washing/drying, folding, ironing, dry cleaning and a pickup or drop off service. By adding these extra amenities, you'll see more cash flow from not only current customers who are taking advantage of these convenient services but also from new customers who are attracted to your new amenities. You'll truly be able to see the positive impact in your revenue when you decide to create a couple new and beneficial services at your laundromat.
Vending Machines
Did someone say snacks? Adding a vending machine or two in your laundromat is a great idea if you're looking for some extra cash flow! When customers are waiting for their clothes to dry and they spot their favorite snack or drink across the room, they're most likely to get up and spend an extra dollar or two to savor their craving. In addition to snacks and drinks, you could also stock the machines with laundry products like detergent and fabric softener. This way if someone forgets their detergent, they can conveniently purchase some from your vending machine. Adding vending machines not only increases the quality of the customer experience, but it also gives you a greater profit, so it really is a win-win for everyone!
Upgrade Old Machines
We've all heard and learned to love the saying "time is money," which really is true when it comes to laundromats! Customers want fast and efficient machines and will go wherever they can get that type of service, which is why upgrading to high-quality washers and dryers will maximize your profits in the long run. Machines like our Top Load Washers and Stack Tumble Dryers are examples of machines that get the job done quickly and efficiently. Also, when you purchase high-quality machines you don't have to worry so much about normal wear and tear costs that can sometimes drain your budget. If you purchase high-quality, durable machines, you are sure to maximize your profits in the long run!
Entertainment 
It's no secret that laundromats aren't the most exciting place that customers get to visit throughout their day. Although it's no amusement park or movie theatre, there are still plenty of ways you can spice up your business to make it a little more exciting! Try installing a couple TVs throughout the main area with channels such as local news/weather, sports, and movies playing to amuse your customers. Other ideas like free WiFi, a small community library, board or arcade games are low-cost ways to entertain your customers. Remember, small things make big differences, so creating a couple of entertainment options will certainly attract more customers and increase your revenue!
Manage Utility Costs
A super-easy way to maximize your laundromat profits is to manage your utility costs. You can manage your utility costs by installing water and energy-efficient coin-operated commercial laundry equipment. Equipment such as our Front Load Washers and Tumble Dryers are examples of energy-efficient laundry machines that are proven to reduce utility costs. This isn't something that crosses everyone's mind, but it is something so simple that you can manage. Purchase your energy-efficient laundry machines and watch your profits begin to rise!
Additional Amenities
Any additional amenities that you incorporate into your laundromat are sure to maximize your profits. These ideas can truly be endless, so open up your mind and have an imagination! Some additional amenities you might want to consider are a small coffee shop, child play areas, workspaces for customers working remotely, or even comfy modern lounging chairs for customers who want to relax. Any amenity that is low-cost and adds a little something special to your laundromat is totally worth it in order to attract new faces. Keep it simple yet intriguing and you'll see the positive impact in your bank account!  
Maximize Your Profits with Coin-O-Matic!
Whatever it may be, there are definitely multiple methods you can use to maximize your laundromat profits. Choose a couple of options that best fit your business and personalize them to make your laundromat unique to you. Feel free to contact us if you're seeking more suggestions or if you're interested in more information about our machines. We know that we'll be able to assist you, so reach out whenever you're ready! 
Tagged: Laundromats