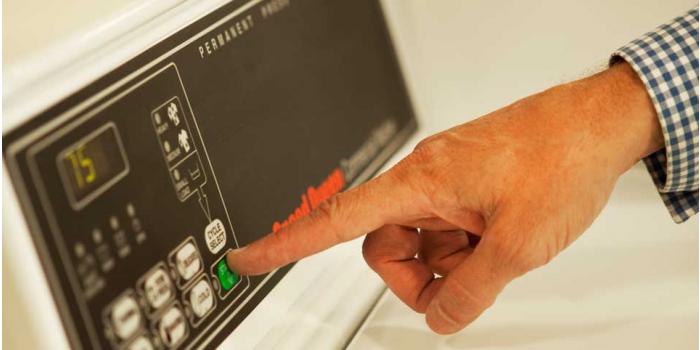 In today's competitive real estate market, it's important that property owners and landlords go above and beyond to make sure their rental properties stand out from the competition. If you're looking to attract qualified renters and keep current tenants happy, community laundry rooms are a must-have for apartments, condos, and other multi-housing facilities. But what exactly are potential renters looking for when it comes to laundry? What really makes a community laundry room stand out? As a leading commercial laundry equipment distributor in Illinois and Indiana, we've chatted with our fair share of property owners, managers, and landlords about these same questions. A clean, efficient, and well-planned community laundry room is a huge asset and selling point for your property. If you really want your community laundry room to wow tenants and stand apart from competitors, here are a few tips.
1. Keep it clean.
This is the first — and easiest — step. No one wants to do laundry in a dirty space, which makes a dirty laundry area an immediate turn off to the majority of renters. Too often cleanliness of communal spaces in rental facilities gets pushed to the back burner with all the other pressing maintenance tasks. Make sure laundry room cleaning and upkeep is part of your ongoing maintenance schedules. Not only will your residents notice and appreciate the cleaner space, but laundry equipment that is kept clean and well-maintained will last longer and have fewer service issues.
2. Provide good lighting.
This one is especially important for buildings where the laundry is in the basement or a room without much natural light. Lighting is important for a number of reasons when it comes to laundry rooms. First, good lighting naturally improves safety by reducing the likelihood of trips and falls in the dark, as well as providing a sense of added security for residents. Second, tenants will appreciate a well-lit space when they're attempting to remove stains, read product labels, or work in the laundry room while they wait for their load to finish.
3. Add a sink.
Sinks come in handy while doing laundry, and they're not something landlords and property managers always think about. Many fabrics are hand-wash only and stains oftentimes require pre-treating. If you don't have a sink in the community laundry room already, consider adding one. It may not be a deal breaker for residents or potential renters, but they'll certainly appreciate having one close by when they need it.
4. Make the room secure for residents.
Just like laundromat safety is a top concern for investors, the safety of your residents in your community laundry room should always be top of mind as well. Many of the same safety tips and tricks that laundromats use to improve safety apply to your community laundry room as well. Consider adding a lock to your laundry room door so that only residents have access — especially if you don't have a secured entrance to the building. Added security measures will help keep your renters safe and can be a selling point for new tenants. It is also a good first step in preventing damage or theft of your laundry equipment as well.
5. Add convenience.
Renters are looking for more than just laundry services. According to the National Apartment Association, they're looking for ease and convenience in all aspects of their day-to-day lives. One great way to provide that is to make sure your laundry room has flexible payment options. When you buy through Coin-O-Matic, PocketChange.Live offers convenient payment methods, including through a smartphone app, smart card, and credit/debit cards. Building managers and residents alike will appreciate live status updates, email alerts, and other convenient features as well!
6. Make it a social place.
The laundry room may be one of the only places people ever really chat with their neighbors. Making your laundry room a place people actually want to spend time and interact can help boost morale and foster a sense of community in your building, which leads to happier, long-term residents. Also, when neighbors get to know one another, it can help reduce potential conflicts and improve safety (much like a community watch program). Consider adding a bulletin board with community events and updates, some tables and seating to encourage people to stay and socialize, and some vending machines.  
7. Add color and decor.
If your laundry room is bland and not decorated, consider sprucing it up a bit. It's been shown that color can influence mood and behavior, so consider how you want residents to feel when they're utilizing the space or seeing it for the first time on a building tour. Home staging is a big thing in real estate these days. In fact, 49% of buyers' agents said that staging had an effect on the buyer's view of the home. While you likely don't need to "stage" your community laundry room, it does stand to reason that some homey touches and decor items can be a major selling point.
8. Have high-quality commercial laundry equipment.
Last, but certainly not least, is the laundry equipment you're offering to residents. We mentioned convenience, cleanliness, and decor, and the right commercial laundry equipment ties right into that. Not only will sleek, clean, and updated equipment make a good first impression on potential tenants and be a selling point for your rental property, but the added control and efficiency will continue to impress residents long-term. State-of-the-art Speed Queen Quantum Controls and other features, like PocketChange.Live, allow for increased flexibility, customization, and a well-rounded laundry experience every time. Laundry is a top
What's next?

If you're looking to upgrade your equipment or outfit the community laundry room at your apartment complex or other multi-housing facilities, we can help. As a top Speed Queen distributor, we've been helping real estate investors increase profits and serve tenants better through laundry room leasing and commercial laundry equipment since the 1920s. Learn why Speed Queen laundry equipment is a win-win for landlords and renters or browse our Speed Queen coin-operated laundry equipment for multi-housing facilities.
Tagged: Multi-Housing Laundry