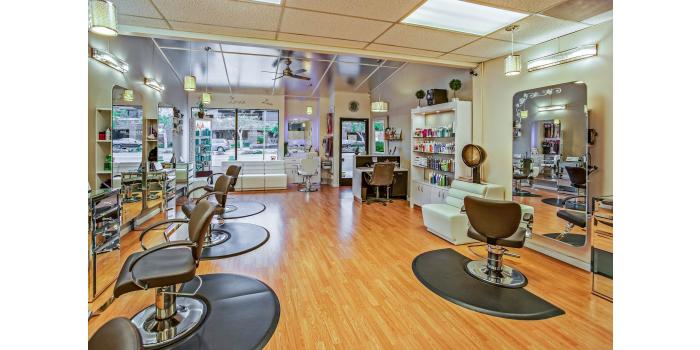 With more than 270,000 salons and barbershops and 21,200 spas in the United States, it's more important than ever that those in the beauty industry stand out from the competition. Quality, commercial laundry equipment can help you do just that! While many of beauty-focused businesses use residential equipment or old, outdated machines, commercial washers and dryers can help take your salon to the next level and outshine the competition.
1. Faster and more efficient service
Residential and outdated machines often can't handle all the laundry coming through your business. Waiting for load after load means you may get behind and not have the clean towels, linens, and uniforms your patrons expect – resulting in disappointed customers and less money. Commercial laundry equipment, like the machines we sell from Speed Queen, have fast wash and dry speeds, so they're built to handle frequent loads quicker and more efficiently than residental machines. Smaller salons may also benefit from commercial manual control washers and dryers that allow them to clean smaller loads throughout the day at a consistent pace. Whatever your need may be, commercial washers and dryers help assure your business is always ready to go – allowing you to serve more customers and provide the most luxurious experience possible.
2. Additional and expanded services
The more services your salon or spa provides – such as massages, tanning, manicures and pedicures – the more towels, rags, robes, and other linens you'll have to clean. Not having the right machines on site to handle the additional loads means you may not be able to grow your business and offer these extra services, requiring your customers to take their business elsewhere. If you've been hoping to expand your services and business in the future, commercial laundry equipment is a must. You'll be able to keep up with the additional laundry as your business and customer-base grows, which means you can expand services and delight your customers!
3. Improved cleanliness and sanitation at your facility
There's no faster way to send your customers running to the competition than having a dirty, smelly, unsanitary salon. Cleanliness is especially important when your salon offers manicures, pedicures, and waxing that can easily spread bacteria leading to infection. Today's equipment is built with cleanliness and sanitation in mind. The latest laundry technology and design provides the best, most efficient clean. Speed Queen's state-of-the-art controls also give you the wash flexibility you need to handle cleaning all types of linens soiled with hair, oils, lotions, dyes, and nail polishes – so you get the cleanest, freshest laundry every time.
4. Lower utilities and more eco-friendly.
More and more salons, spas, and hair care and cosmetic companies are moving toward a natural and environmentally-conscious approach to their business. Customers love it! Commercial laundry equipment can help your business continue on a green and sustainable path. Laundry technology has come a long way in the past few years. Lower cycle times and more control over temperature and water levels means the machines are using less water and electricity than ever before. Increased energy-efficiency will help you reduce your environmental footprint and save money on your utilities in the process.
How we can help
If you're looking to upgrade your current facility or open a new business, we can help you find the perfect laundry solution for your salon, spa, or barbershop. We've been helping businesses just like yours with their on-premise laundry needs since the 1920s. We offer a variety of ongoing support services to our salon and spa customers in the Illinois area, including:
Financing
Installation
Maintenance and repairs
Replacement parts
And more!
Browse our selection of new and used laundry equipment that would be perfect for your salon!
Tagged: Energy Efficiency On Premise Laundry Customer Service