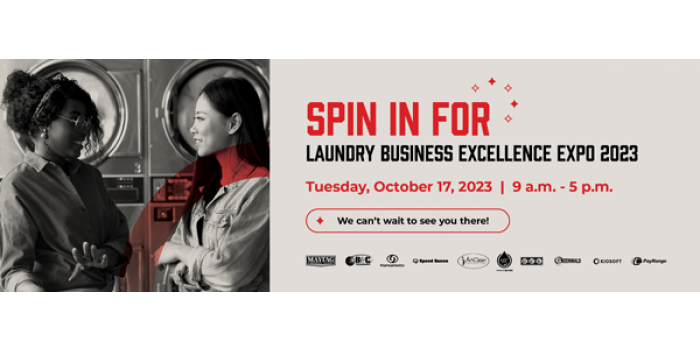 Coin-O-Matic's Laundry Business Excellence Expo is on Tuesday, October 17th, 2023, from 9:00 a.m. to 5:00 p.m. Spin in to experience live product demonstrations, valuable educational seminars, one-day-only pricing and fixed-rate financing for qualified clients. This is a can't-miss event! 
The Laundry Business Excellence Expo will be held at our headquarters: 
3900 W 127th Street,
Alsip, IL 60803
Seminar Preview
On Tuesday, October 17, we'll have business seminars to help increase your laundry business's overall profitability! 
Best Cashless Payment Systems – 10:30 a.m. to 12:30 p.m.
How Much Money You Can Make By: 
Owning Laundromats – 1:00 p.m. to 2:00 p.m.

Adding Automatic Soap Injection to Your Washers – 2:30 p.m. to 3:30 p.m.

Owning a Laundry Pickup and Drop Off Business – 4:00 p.m. to 5:00 p.m.

Each of these three seminars will explain how you can easily make your laundry-related business more profitable with quick additions and simple tips and tricks. Our professionals at Coin-O-Matic will help guide you to owning a successful laundry business! 
Live Product Demonstrations
Join us for live product demonstrations from our trusted laundry vendors. Bring a load of laundry to try our commercial laundry equipment for yourself!  
Our Schedule of Events
Register Today for Coin-O-Matic's Laundry Business Excellence Expo 2023
Time is running out to register for Coin-O-Matic's Laundry Business Excellence Expo! Click the button below to learn more about and to register for the event! 
Tagged: Commercial Laundry Equipment