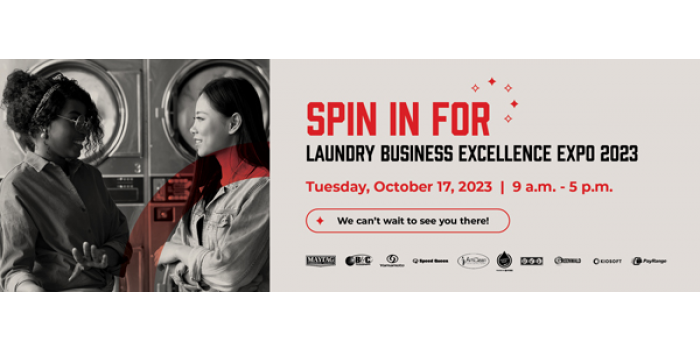 Coin-O-Matic's Laundry Business Excellence Expo is on Tuesday, October 17th, 2023, from 9 a.m. to 5 p.m. Spin in to experience live product demonstrations, one-day-only pricing, and fixed rate financing for qualified clients. 
The event will be held at our headquarters: 
3900 W 127th Street,
Alsip, IL 60803
Live Product Demonstrations & Educational Seminars
Join us for live product demonstrations of our trusted brands. We mean it! Bring a load of laundry and give our machines and technologies a whirl! 
In addition to our live product demonstrations, we're thrilled to provide educational profit seminars, offering valuable insights into maximizing your investments. 
Our cashless payment systems partners, ESD & Greenwald, PayRange, and Kiosoft will be providing information regarding new product releases, as well as discussing their current products. 
Matt Miller, President of Coin-O-Matic, will be giving talks that highlight money-making opportunities of owning a laundromat or laundry pick up and drop off business. 
And, Patrick Kelley, Industry Segment Manager at Hydro Systems and PSG Cincinnati, will offer insights into the benefits of adding automatic soap, bleach, and softener injection directly into your washers.
One-Day-Only Sales and Financing
We guarantee you're going to find something to love during our expo! And when you do, we're excited to give you access to the ultimate combination of value at our Super Sale event, featuring incredible pricing and 5.99% fixed-rate financing options. 
Schedule of Events
Register Today for Coin-O-Matic's Laundry Business Excellence Expo 2023
Click the button below to learn more about Coin-O-Matic's Laundry Business Excellence Expo and to register for the event! 
Tagged: Commercial Laundry Equipment