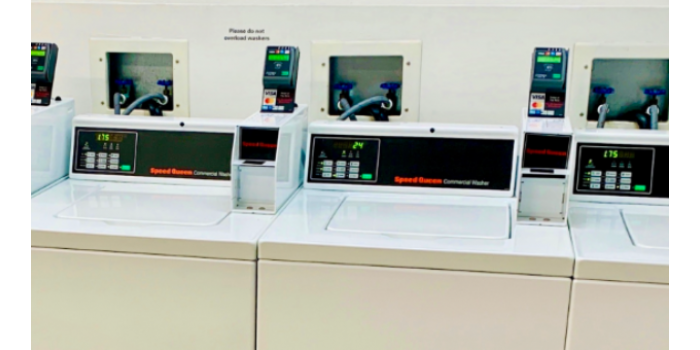 Coin payment systems were the gold standard in vended laundry equipment for decades. Today, commercial laundry equipment is no longer limited to only coin-operated machines. Coin-O-Matic provides our clients with vended laundry machines that have convenient ways to pay for their wash and dry cycles. Customers can pay for a wash or dry with traditional cash options, a smartphone app, and a credit card. Below we will break down the key features of each laundromat payment option to help you find the best payment option for your business!
Cash
Cash is still king when it comes to laundromat payment systems. It's essential to offer cash machines as many customers continue to rely on cash as a payment option. The transition to digital payments is underway, though, and taking advantage of the switch before everyone does is vital to keeping your laundromat up-to-date and easy to use.
Almost everyone carries a phone with them today, and now customers can use their iOS or Android device to act as mobile wallets. Customers can put $10, $20, $30, or $50 increments with any debit or credit card to put money into their mobile wallet. The phone's wireless technology can communicate with each washer and dryer to pay for the cycle with funds from the app. When the amount gets low within the app, the customer adds more money to their mobile wallet.
Important Benefits of Smart Phone App Laundry Payment Systems:
Eliminating cash from your laundromat to simplify your business
Low hardware costs
Low credit card and processing fees
Increased laundromat revenue
At Coin-O-Matic, we can install SpyderWash card readers on each machine. This doesn't replace the coin operation on each piece of equipment but instead adds an option for your customers to have another payment option using their card. Each reader can communicate wirelessly via Bluetooth technology to a high-speed internet hub that enables real-time card authorization.
With this option, customers can also use their Mag Stripe card, tap an RFID Contactless Card, or use an NFC Mobile Wallet Payment such as Apply Pay, Google Wallet, or Softcard.
Important Benefits of Credit and Debit Card Laundry Payment Systems:
Multi-vend / multi-pricing compatibility
Complete payment auditing and accountability
Contactless card acceptance
Compatible with all brands of laundry equipment
A smart card system is a secure electronic "token" system for laundromat owners that want to remove cash payment options from their business. Instead of using quarters, customers can use a proprietary card that can store its value on a secure microchip. To re-evaluate a smart card, customers can stop at an Add Value Station installed at your business with secure website access.
Important Benefits of Smart Card Laundry Payment Systems:
Eliminates cash from your laundromat
Multi-vend / multi-pricing compatibility
Complete payment auditing and accountability
High-security Add Value Stations accept cash or credit card payments
Custom printing of smart cards
Laundry payment systems continue evolving, and your laundromat business must provide customers with the most accessible transaction options. If you need further help in choosing the right laundry payment system or want to take steps to install these options into the machines at your laundromat business,  contact Coin-O-Matic! We'll be able to help you to find the right laundry payment system, increasing your laundry revenue and allowing your business to find further success!
Tagged: Laundromats