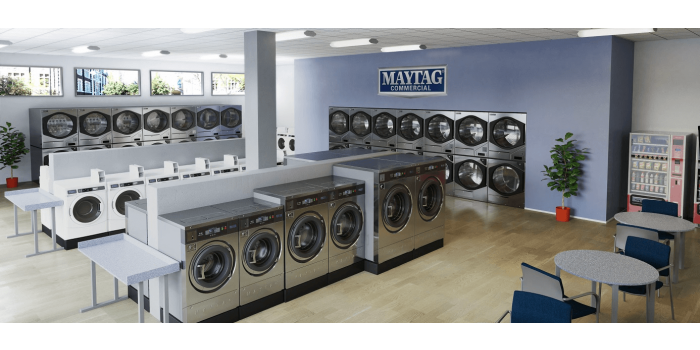 Creating a solid digital marketing strategy can help your laundry business to reach a new audience while building relationships with your current customers. Both are key to ongoing success and increased profitability. 
Things are only becoming more competitive, and laundromats need to stand out. As a leading Midwest laundry distributor for more than 100 years, we've helped hundreds of laundromats promote their business and learned a lot ourselves over the years.  
Now, we're passing that along to you. 
We put together a few of the most effective ways to market your laundromat. 
Search Engine Optimization (SEO)
Search Engine Optimization, or SEO, is the process of improving a website for better search visibility on search engines like Google. For your laundromat to rank high on search engines, you need to understand and target keywords your customers are searching for. 
These keywords and keyphrases relate to your laundry business. They're often broad, such as "laundromat." Some may be more specific such as "laundromats in [city name]" or "best laundromat near me." 
Some customers may even search for your laundry business directly. Think phrases like "[Laundromat name] hours" or "[Laundromat name] address." 
You should also consider key pain points and questions your customers may ask. Things like "how to separate laundry," "how to remove wine stains," or "tips for using a laundromat." 
Ranking for these keywords and phrases takes consistent work. It won't happen overnight. The search landscape for laundromats is particularly competitive. But with the right information for potential customers, great website content, and a fast-operating website, you'll eventually see success! 
SEO tips for laundromats: 
Do your research. Keyword research will help you determine what your customers are searching for, how often they're searching for it, and what customers are looking for in your area. An SEO tool like Moz or Semrush can help you find keywords to target. 

Perform a website speed test. Speed is a key factor for ranking on search engines, so you'll want to see how your website performs and what you need to do to improve it. Free sites are available to do speed tests on your website, such as Pingdom and GTmetrix. 

Set up a Google Business Profile. These free Google profiles will help make sure customers can easily find and interact with your business when searching on Google's search engines or Google Maps.  
Once you know what keywords you're targeting, the next step is to create great content using those keywords. 
Content Marketing
Content marketing works hand-in-hand with your SEO efforts. Content helps to attract, engage, and retain your target audience through blogs, videos, charts, and other content on your website. 
As you write, incorporate the keywords and keyphrases you researched while working through your keyword research. 
As you create blogs and other content, write for your specific audiences — families in nearby apartments, college students, or businesses. 
Add blog content directly to your website to increase traffic and educate customers about your brand and commercial laundry equipment. 
Content Marketing Tips for Laundromats: 
Use keywords. Create blog and website content using keywords found in your research. Showcase your knowledge and expertise on laundry equipment and laundromats while naturally working in those important phrases.

Consistency is key with content. Pick a posting cadence you can stick with, whether once a week or once per day.

Quality over quantity. One well-written, helpful post will do more for your business than multiple random posts you spent 5 minutes on. Grammarly and Hemingway are great tools to help improve your writing.

Avoid big blocks of text. Break up text with images, short paragraphs, headers, and bullets to make it easy to read. This will make it easier for your readers to understand and skim your content.     
Social Media Marketing
Social media marketing uses social channels to promote your laundromat business and services. Social media marketing has become increasingly popular as audiences have looked to Facebook, TikTok, and Instagram for shopping and gathering information about services they're interested in. 
Consistently posting to your social channels can show your audience that you're active and engaged with your community. You can also showcase events, new laundry equipment, and customer reviews on your laundromat's social media channels. 
Social Media Tips for Laundromats:  
Use eye-catching visuals. Visuals are key across basically every social channel. With their permission, take photos and videos of customers using your laundry equipment, and post them. 

Optimize your profiles. Every social media platform is different, but it's important to make sure you've filled out your profile as much as possible to make sure it's easy for customers to identify you. At the very least, you should have a display picture with your logo and your contact information. 

Be social. Engage with comments and messages from customers. Beyond that, take the time to connect with other local businesses and partners as well. Commenting on their posts can be a great way to generate brand awareness. 

Consistency is key. Much like content, consistency is key on social media. Whether you post once a day or once per week, stay consistent so your audience knows what to expect. 
Paid Digital Advertising
While all of the above methods are free, digital ads require paying for clicks and traffic to your website. Nowadays, there are many ways to use digital advertising that can make the investment more than worth it. 
Platforms like Google Ads and Facebook Ads allow you to target specific demographics and locations, making it easier to reach potential laundromats in your area. 
You'll purchase keywords and phrases that you want to target and specific audience demographics. Online ads can be expensive, so creating a budget and tracking your return on investment is important. 
Digital Advertising Tips for Laundromats: 
Hone in on your target audience. Your ads will be more effective if you narrow in on the geographic area and demographics you want to target.

Offer special deals: Consider offering deals like discounted washes or free drying for first-time customers or loyalty programs for returning customers. You can also promote these via social media and other marketing efforts. 

Track Your ROI: Use tools like Google Analytics and Facebook Ads Manager to track the performance of your digital advertising campaigns. 

Include CTAs. Each digital advertisement promoting your laundromat should include a Call To Action, or CTA, urging your audience to take action. CTA's for your laundromat could include "learn more" and "visit us today." 
Building a Marketing Strategy for Laundry Services 
SEO, content marketing, paid advertising, and social media marketing are most successful when they work together as part of a big-picture marketing strategy.  To tie everything together, you must have a marketing plan built on value-driven relationships with your laundromat customers.
Run campaigns for your laundromat showcasing your commercial laundry equipment, any events you're hosting, and more. What role should each channel play? 
If you're working with other employees or a marketing agency partner, ensure you're on the same page. Discuss how you can use each platform or channel to highlight initiatives and boost success across the board. 
It's also important that you set key marketing goals to make sure you're spending your time, money, and energy on the marketing tactics that are working the best for your business.  
Contact the Coin-O-Matic Laundry Professionals
If you're still struggling to determine the best way to promote your laundromat, contact the professionals at Coin-O-Matic today!
Tagged: Laundromat