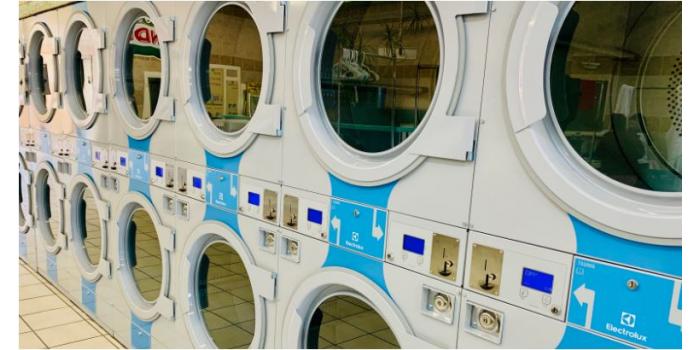 We're almost a month into the new year. Is your laundromat ready? We've put together a checklist to really keep your coin laundry business competitive and meet customer expectations in the new year. 
☐ Do you have cashless payment alternatives?
Cashless payment options for laundromats were already rising in popularity before COVID-19. Customers today don't just appreciate them, they expect them. As we continue to navigate life during the pandemic and debit cards, smart cards, and mobile apps remain popular payment methods, investing in these cashless and low-contact alternatives can be a strategic move for your laundromat. 
☐ Have you upgraded your laundry equipment recently?
There's never been a better time to invest in washers and dryers from top commercial laundry equipment brands like Electrolux Professional and Maytag Commercial. Today's advanced laundry equipment provides a superior clean and helps you stay competitive during these tumultuous and changing times. 
For laundromat owners, new commercial equipment is more energy-efficient than older models which can help cut your utility costs dramatically and save money during these uncertain times. Plus, new equipment is a great marketing and sales message point to get new and returning customers through the door. 
On the flip side, customers will also appreciate the short dry time, increased customization, and advanced controls that allow them to make the most of the equipment and get a better clean.  
☐ Have you updated your cleaning and sanitation practices?
Sanitation is more important than ever as we continue to navigate this ongoing pandemic. If you haven't already made significant improvements to cleaning and sanitation procedures at your laundromat, now is the time. Pay special attention to high-touch areas such as handles, controls, buttons, and bathrooms. A clean laundromat provides a better — and safer — experience for customers. 
☐ Do you offer no/low contact services such as laundry pick-up and drop-off?
Many businesses across industries have started offering carryout, pick-up, and delivery services throughout 2020, making it the new normal for many customers. If you're not already, think of ways you can minimize in-person contact to keep customers and employees safer and provide added convenience. These additional services can help attract new customers and keep your business competitive in 2021. 
☐ Does your laundromat layout allow proper social distancing in place?
How does your laundromat layout flow — specifically during these times where it's recommended to keep your distance from others? If you haven't already, consider ways that you can add more space to allow customers to spread out. This could mean spacing out seating areas and folding tables or even opting for space-saving stackable tumble dryers.
☐ Do you have a strong online presence?
Your digital presence is more important than ever. In our technology-first society, investing in your website and social media can help you stay relevant and reach new customers in 2021. 
As people look to social distance and do more virtually, it's imperative that it's easy to connect with your laundry business online. This is also where your existing and potential customers are going to go for your most up-to-date hours, pricing, contact information, and other key info. If you've already upgraded your website and are have a strong social presence, consider new ways to bolster your online efforts, such as digital advertising, email, groups, and more. 
☐ Have you connected with your customers?
Another important to-do item for 2021 is to actually take some time to reconnect with your customers. Time certainly hasn't been standing still.  Your customer base may have changed, their needs may have changed, and your business operations may have changed. With that in mind, take the time to get some direct customer feedback. Surveys, reviews, social media engagement, and phone or in-person conversations can be incredibly beneficial. You never know what you may hear and how it might benefit your business. 
How are you taking your laundromat to new heights in 2021? From new vended laundry equipment to laundromat development and ongoing business support,  Coin-O-Matic has more than 100 years of experience partnering with laundromats across the Midwest. 
Tagged: Customer Service Energy Efficiency Laundromats