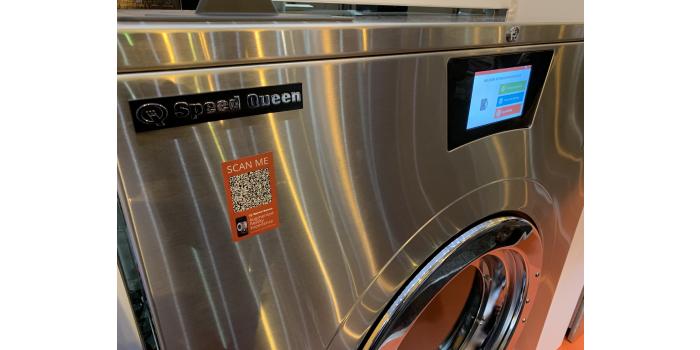 We recently attended the Clean Show, one of the laundry industry's biggest events. The event boasts more than 11,000 attendees and 224,500 square feet of exhibit space full of the latest technology and innovation, major laundry brands, equipment distributors, and laundry investors. Joe Martynaitis, John Antene, and Matt Miller represented our team at the convention in New Orleans last month. It's been a few weeks, but we're still taking it all in! Here are a few of our top takeaways…
New innovations from Speed Queen
As a proud Speed Queen distributor, we obviously love their commercial laundry products. We may be biased, but there's really no denying Speed Queen was the star of Clean 2019. The booth was packed throughout the entire convention as people waited to see some of the latest innovations, including: 
New Quantum Touch Controls. These innovative controls take managing your laundry equipment to the next level. Quantum Touch Controls include a color touch screen display, customizable cycle modifiers, flexible pricing, leak detection, and so much more. They also feature new cabinet designs on the washers and dryers that wrap around the new Touch Control mechanisms. Very cool!
New Point of Sale (POS) system. Laundromat owners can now inventory and sell soaps, bags, and wash and fold services directly within Speed Queen Insights software. This can help keep everything in one place and make managing your business even easier. 
New Speed Queen Speed branded franchise laundromats. With this new franchise opportunity, laundromat investors now have the opportunity to invest in a proven laundromat business model with ongoing franchise support. This is incredibly exciting! With ongoing support and guides, Speed Queen franchise opportunities substantially reduce the risk of business ownership and greatly increases the investor's ROI.  
Overall, Speed Queen has taken the lead in laundry equipment design, touch controls, and back end software which truly allows laundromat owners to manage their business in a simple, cost-effective manner (which ultimately means more profits). We spent a lot of time viewing competitive offerings from other laundry equipment manufacturers at the event but frankly found them uncompelling in comparison. 
Increased connectivity
We always enjoy walking around the convention floor and looking at some of the smaller booths and emerging technology in the industry. One thing that definitely stood out as we look toward the future of the laundry industry is the idea of connectivity. From laundry equipment to POS systems to soap vendors and everything in between — you can manage it all from your smartphone. You can be as connected to your laundromat as you want, all with the touch of a button. This can make managing your laundry business easier and more efficient, and improve the overall experience for your customers. Either way, it's definitely changing how we think about the vended laundry business model moving forward. 
Coin-O-Matic has the latest in laundry innovation
 We are already counting down the days to the next Clean Show in Atlanta in 2021. In the meantime, we are looking forward to sharing the latest in laundry innovation and connectivity from Speed Queen to our vended, on-premises, and multi-housing customers without our Illinois and Indiana service area. Contact us to learn more about our Clean 2019 experience and see some of the latest products in person!