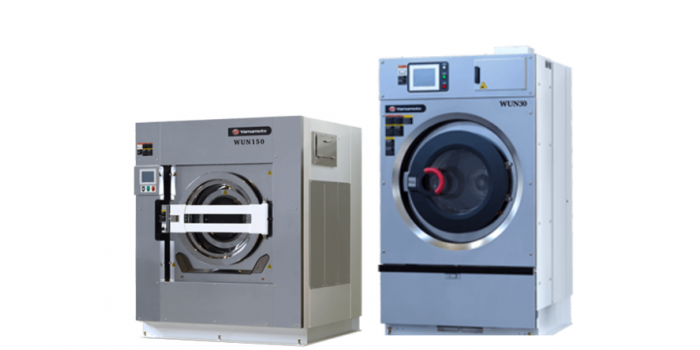 Is it time to take your laundry business to the next level? Yamamoto industrial laundry equipment makes it easy for you to update your equipment or choose the best laundry equipment on the market right off the bat. 
Yamamoto laundry equipment isn't just a step above the competition — it's an entire leap. See for yourself how their equipment can take your laundry business to the next level. 
Why Yamamoto Industrial Laundry Equipment is the Best
Yamamoto industrial washers and dryers deliver industry-changing performance built on exceptional performance and durability. Each Yamamoto washer and dryer is assembled one piece at a time with robotic technology designed by their in-house engineers. 
With robotic builds of each machine, other commercial laundry equipment brands have the near-impossible task of competing with Yamamoto's efficiency and consistent quality. The Yamamoto team can ensure quality manufacturing through each build as they oversee the building process for each equipment model. 
Even after years of use, Yamamoto equipment provides consistent results for both large and small-scale industry needs. With attention to detail and exceptional quality, Yamamoto commercial laundry equipment is a top choice for any laundry business. 
Below are a few of the top qualities that set Yamamoto apart from the competition:
Touch screen controls

Multi-weight loading

Superior balance controls

Industrial-strength fill valves

Easy-to-clean drain and filter with an all metal design

One-of-a-kind lifetime bearing housing

Industrial grade large diameter spring control

One piece shock design

And so much more! 
Yamamoto Commercial Laundry Equipment at Coin-O-Matic
At Coin-O-Matic, we carry the top Yamamoto laundry equipment in the industry. We are your one-stop in the Midwest for best-selling Yamamoto equipment, service, parts, and financing. 
We offer six of the top performing Yamamoto soft mount washer extractors on the market. Each piece of equipment is available in 30 to 275-pound capacities, stainless steel finishes, and a five-year warranty on each piece of equipment. 
The 10 water level options on these machines allow you to clean laundry more efficiently while conserving water and energy for your laundry business. 
Yamamoto 150lb Soft Mount Washer Extractor WUN 150
Yamamoto also offers soft mount washers and dryers that conduct dry-to-dry cycle options and 14-minute wash cycles that will leave you in awe over the power of these machines. Choose between 60-pound and 80-pound washer extractor capacities based on your laundry business preference and needs. 
Yamamoto 80lb Soft Mount Washer and Dryer WUD 80
Contact the Laundry Equipment Professionals at Coin-O-Matic Today!
At Coin-O-Matic, we're here to help you choose the best commercial laundry equipment for your business. Yamamoto industry equipment can take your wash and dry times to the next level with consistent results that you won't see from competitors on the market. 
Contact our laundry equipment professionals today to see which Yamamoto washer extractor is right for your laundry business! 
Tagged: Commercial Laundry Equipment