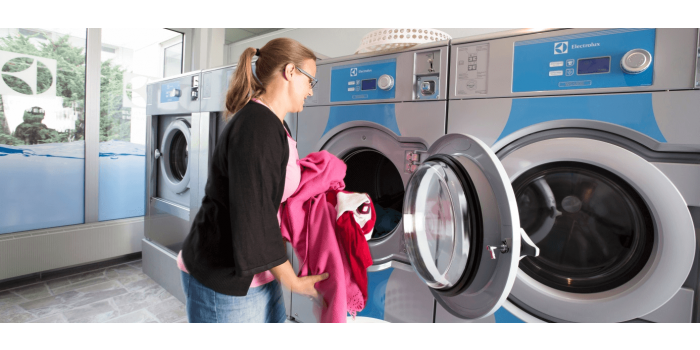 Valentine's Day is right around the corner, which means love is in the air. We love being a part of the laundry industry. We also love commercial laundry equipment and helping our customers. In that spirit, we want to tell you some of the reasons you'll love the commercial-grade washers and dryers from the top laundry equipment brands we sell here at Coin-O-Matic, including S⁠peed Queen, Maytag, Electrolux, B&C Technologies, and Yamamoto. 
Why you'll love Speed Queen
Coin-O-Matic is proud to be the oldest Speed Queen distributor in the United States. There's a lot to love about Speed Queen Commercial, specifically for our multi-housing customers. In addition to being known for incredible innovation and energy-efficiency…
For multi-housing installations, no other manufacturer produces washers or dryers that will outlast Speed Queen's durability.

Coin-O-Matic has been in the apartment laundry room leasing business for over 60 years and all of the equipment we own bears the Speed Queen label in such installations.
The Packers missed the Superbowl this time around, but Wisconsin still has Speed Queen small chassis washers and dryers 100% manufactured in downtown Ripon (pronounced Ripin).
Why you'll love Maytag
Maytag has been a recognizable name in the laundry industry since 1959 and we're proud to be a distributor. Maytag commercial laundry equipment is incredibly versatile, dependable, and easy to use in laundromats and beyond. 
Maytag also offers advanced controls with M-Series Technology customized setup, time-of-day pricing, cycle modifiers — including hot water temperatures and additional rinse cycles — that can also give users more control and provide additional revenue opportunities.
Some equipment features the advanced Duracore Drive System features a triple-lip seal, robust shaft sleeve, premium bearings, and die-cast trunnion for truly reliable and durable machines that get the job done. 
Maytag makes service easy to help minimize downtime and revenue loss. The simple bottom and front-panel allow for quick access to the transmission and other interior parts. The console can also be removed with just two screws to gain access to the control panel.
Maytag commercial dryers feature large door openings when compared to other brands. These larger openings provide quick and easy loading and unloading for your laundromat customers.
Maytag is the only manufacturer to build a complete line of laundry equipment in the United States. All Maytag laundry equipment is 100% made in the USA!
Why you'll love Electrolux
Electrolux is known for its innovative features, efficiency, and superior cleaning capabilities. That makes them a great fit in laundromats for both owners and customers. Electrolux is truly unmatched in the industry.
Electrolux Professional has the laundry industry's only sanitizing wash cycle that's federally-approved to kill viruses like COVID-19. This is a game-changer in today's climate where sanitation practices and the virus remain top-of-mind for consumers. 
The Laundry Pulse management software provides laundromat owners all the information to operate, advertise and manage their business at maximum profitability. Unlike all competing manufacturer-provided solutions, with Laundry Pulse, your laundry data is 100% securely hidden from prying eyes.
Their ergonomic design focuses on users with features like a reversible door hanging and quick access to vital parts from the top and bottom for servicing. Overall, it makes a more comfortable and efficient experience. 
Why you'll love Yamamoto
Yamamoto products are trusted in OPL facilities both nationally and worldwide, including hospitals, hotels, industrial operations, athletic facilities, and dry cleaners. Based in Japan, Yamamoto has been in the laundry game for more than 70 years. They continuously adapt and provide technology and features that help OPL businesses reach the next level. .
All industrial laundry equipment at Yamamoto is backed by the Harmony Cleaning System for superior and well-rounded cleaning and expanded dry-cleaning services for your on-premises laundry business.  
Yamamoto places significant focus on durability and long-lasting equipment, with innovative bearing assembly, door assembly, drain valve assembly and more so the equipment stands up to consistent use. The quality needs to be seen to be believed.  Not to be cryptic, but Yamamoto washers will outlast the life of you and your business.
Equipment comes with large, easy-to-use control and display that can be customized with up to 100 different cycles. 
Why you'll love Coin-O-Matic
Now that we've talked about some of the amazing commercial laundry equipment brands we offer, let us tell you a little bit about us as well. 
We've been a key player in the laundry industry for 100 years. Our parent company, Harry Miller Appliances, was founded in 1921. We've been a family-owned business focused on laundry equipment and great customer service ever since! 
From laundromat development and location scouting to ongoing consulting, investing, and maintenance support, we're here with you every step of the way. We care about our customers long after a sale and strive to build long-term business relationships.  
We handle laundry equipment needs across industries — including laundromats, multi-housing, and on-premises laundry facilities — throughout a wide service area that spans through Illinois, Indiana, Michigan, and Wisconsin. 
Want to learn more about Coin-O-Matic or any of these great commercial laundry brands? It's a date! We'd love to help you find the best laundry solution for your business and show you all that Coin-O-Matic has to offer. Give us a call anytime at 1-708-540-2076. 
Happy Valentine's Day!