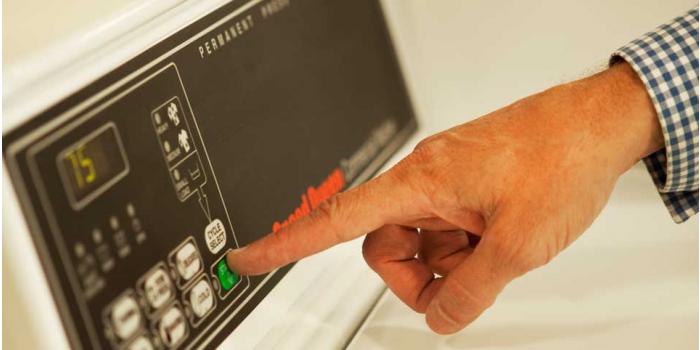 When building or remodeling a residential property, laundry is definitely something landlords and property managers think about. There's a lot of competition in real estate, especially in crowded metropolitan areas like Chicago! Property owners and landlords in the suburbs and rural areas also need help making their properties stand out. On-site laundry is a top amenity that would-be renters are looking for, but it can be difficult to know whether to invest in a community laundry room or provide laundry equipment in each individual unit. Let's take a look at some of the pros and cons of each.
Buy apartment laundry equipment today!
Community Laundry Room Pros
Increased revenue opportunities. Generally, users are charged per load in the community laundry rooms in apartment buildings, which goes back to the landlord. In addition to the coin-operated machines, you can also include other revenue options, like soap vending machines, coin and bill changers, and other vending machines for tenants.

More space for renters. Space is tight in apartment complexes. The average studio apartment in downtown Chicago is only 550 square feet. A community laundry room helps renters avoid using precious storage and living space for laundry equipment. Community laundry rooms may also have room for extra amenities like deep sinks for hand-washing clothes, laundry folding tables, and drying racks that renters normally wouldn't have in their apartment.

Less wear and tear on the building. Since you'll only be moving laundry equipment to one area of the building, not each individual unit, there's less chance of damage to floors, door frames, and the walls of the units. Plus, you'll be able to do the installation and maintenance all at once rather than inconveniencing current tenants or waiting until existing units are vacant to install the machines. Avoiding multiple installations and having to shuffle around your machines will ultimately help minimize wear and tear on both your building and the machines themselves.
In-unit Laundry Room Pros
Charge more in rent. Tenants typically expect to pay more for premium amenities, like laundry equipment in their apartment. With that in mind, you'd be able to up your monthly rental charges and increase revenue on each unit.  

Utility costs can fall on tenants. Depending on the parameters of the lease, your tenants may be responsible for the additional water and utility costs incurred by using the washer and dryer in their unit. Not having that additional expense can save you money in the long term.   

Attractive perk to renters. In-unit laundry is an attractive amenity, which means it'll help your building stand out to potential renters, especially if competitors in the area don't offer the same perk. Attracting quality, responsible renters is crucial to the success of any real estate venture.
Community Laundry Room Cons
You maintain it. Generally, building managers and landlords are responsible for maintaining the laundry facility and commercial laundry equipment, including cleaning and maintenance. That can be a lot of extra work for property owners who already have a lot on their plates. Not in your wheelhouse? Learn about the benefits of leasing your Illinois laundry room with Coin-O-Matic.

Less privacy for renters. Since it is a shared space, renters have less privacy than if they were doing laundry in their own apartment. That may deter some would-be tenants from signing a lease.
In-unit Laundry Room Cons
More upfront costs. Since you're outfitting each unit in the apartment complex or condominium, your initial investment is probably going to be higher than just outfitting one community space with commercial laundry equipment.

Additional maintenance. Having machines in each unit also means you have more to maintain and a higher risk of maintenance issues. Having to work with tenants' schedules to enter the apartment to perform routine maintenance also adds an additional layer of complication.  
Not sure what is the best option for you? The multi-housing laundry experts at Coin-O-Matic can help. We've been providing laundry solutions for apartment buildings, condominiums, and more around Illinois, Indiana, Wisconsin, and Michigan.
Tagged: Multi-Housing Laundry