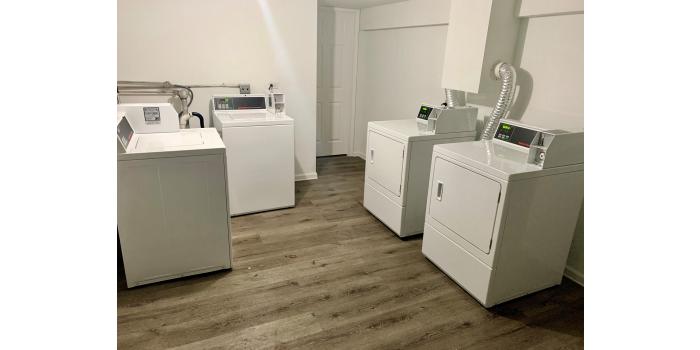 Coin-O-Matic has been a leading Midwest laundry distributor for almost 100 years. From luxurious Chicago high-rises to cozy duplexes in the suburbs, our multi-housing laundry projects have spanned the gamut, and we've seen our fair share of successful laundry room upgrades during that time. With that in mind, we wanted to share some insights with landlords and property managers who are planning to upgrade the laundry room in the apartment complex, duplex, or condominium. Before you invest any time or money into remodeling the space or upgrading your commercial laundry equipment, keep these tips in mind...
1. Ask your tenants what they want. 
Before moving forward with any kind of upgrade to your building, including your laundry room, take some time to chat with existing tenants. They're the ones that use the space, so they'll have some important insights. From card or smartphone-based payment systems to additional washers and dryers, figure out how you can better meet their needs and make the space more appealing. By taking their requests and feedback into account, you'll make current residents happy and reduce unit turnover. And, chances are, prospective tenants also want the same things out of their laundry room, so you're also setting yourself up for future success. 
Read Now:8 Ways to Make Your Community Laundry Room Stand Out to Renters
2. Work with a knowledgeable distributor. 
After you've talked to your tenants, it's time to talk to a commercial laundry equipment distributor, like us. We can provide important recommendations about the number of washers and dryers you need, what size/capacity is best for your space, equipment financing, and other key details that will help make your community laundry room more efficient and cost-effective. If you're in Illinois or Indiana, don't hesitate to contact us. 
3. Keep efficiency top of mind. 
The laundry industry has made leaps and bounds when it comes to energy efficiency in the last decade or so. If it has been a while since you upgraded your vended laundry equipment, you may be surprised how much you could be saving on utility costs thanks to advanced features like auto water leak detection, auto shutdown, low power mode, programmable water levels, and more. Plus, today's advanced monitoring tools allow you to keep a closer eye on machines, allowing you to troubleshoot issues before they become larger, expensive problems.
4. Improve security & safety. 
Everyone wants to feel safe in their home, especially with so much unrest in the world today. Making upgrades to the equipment and design of the shared laundry area in your apartment is the perfect time to make some security upgrades as well. Investing in security cameras, adding a secure entrance to the laundry room, and opting for non-slip flooring can all go a long way to helping residents feel secure when using the space, which, in turn, increases satisfaction and reduces turnover. Safety features are also a selling point you can use to stand out against the competition in your ongoing marketing efforts and open houses.
5. Make it feel homey. 
Remember, the laundry room is an extension of your tenants' homes. Think beyond the equipment and add some "homey" touches to make the shared laundry area unique and inviting. From updated paint colors to natural light, plants, and decor, consider some cost-effective upgrades that will help your space stand out and attract both existing and new customers. You'd be surprised how a few design upgrades can help foster an ongoing sense of community and add an air of luxury to your building. 
If you're in the process of upgrading the laundry room at your Illinois or Indiana multi-housing facility, we'd love to help. Check out the below resources for more details or reach out to our team of laundry experts.
Tagged: Multi-Housing Laundry