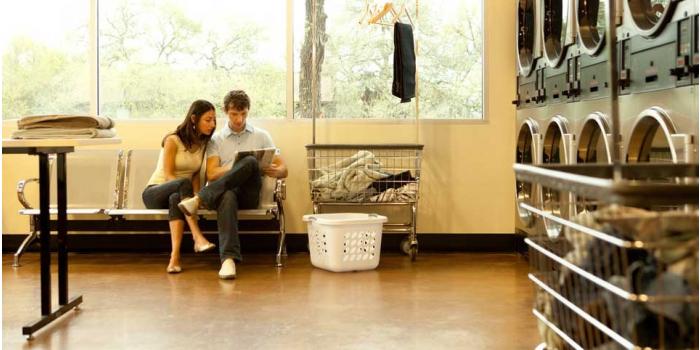 Spring is here! The change in season is a great chance for laundromat owners to review their processes, spruce up their business, and impress their customers. If you haven't already started on your spring cleaning tasks, it's time to dive in. Here are a few strategies you may want to try in order to shake off the winter doldrums, get a fresh perspective on your business, and give your laundromat a push forward.
1. Become a customer at your laundromat.
As a business owner, you're obviously an expert at the back end of things -- management, maintenance, bookkeeping, etc. However, when was the last time you looked at your laundromat from your customer's perspective? Once a year or so, it's a good idea to take a step back and see things from a patron's point of view. If you aren't usually a customer at your own facility, grab your clothes hamper and head on over. As you go through the process, make notes of what amenities may be missing and what could be improved. Did anything slow down the process? Was everything clean and organized? Were signs and instructions easy to follow? These are all things that could be turnoffs for new customers and should be addressed.  
2. Get an outside perspective.
While it can be eye-opening to experience your business from a customer's point of view and go through the process yourself, you're still going to have a certain amount of bias that may cloud your judgement. That's why you should also enlist the help of an outsider -- a family friend, fellow business owner, neighbor, etc. -- to also provide feedback. Have them visit your facility and go through the process. What did they notice as a first time visitor? What held them up or caused confusion? If they're a trusted source, you may also want to ask them to take a look behind-the-scenes too. They may have valuable insights on your management style, organizational habits, and business strategies. In addition, spring is a great time to enlist feedback from your customers via email, social media, and in-store surveys. 
3. Clean up your online presence.
The digital world changes fast, and it's not always easy to keep up. If you haven't checked in on your website and social media channels, you may be missing out on potential customers and revenue. If you haven't heard, more than 80% of consumers research a business or product online before purchasing, so your online presence is more important than ever. As part of your spring cleaning, take the time to sit down and dive in.
When looking at your website, make sure your contact information, images, hours, and services are up to date. You may also want to edit your website copy and add in important keywords for searching. On social media, it might be time to update the "About Us" section and change your profile or cover photo to better reflect your company's vision and branding. Be sure you address any negative reviews so your customers can clearly see you're working to improve customer satisfaction and fix any issues.
4. Pay special attention to the bathrooms.
Your restrooms are incredibly important to your customers, and they are a direct reflection of the pride you take in your business. You're hopefully cleaning them regularly already, but they deserve some extra TLC every so often. If your restroom is less than stellar, spend an afternoon giving it a thorough clean from top to bottom and stocking up on all the necessary supplies. Replacing hardware, updating tiles, or a new paint job can be easy and cost-effective ways to give your bathroom a facelift without investing in a full remodel. While taking care of the bathroom isn't always the most pleasant job, your customers will appreciate the improved cleanliness and extra effort.
5. Upgrade your old and outdated laundry equipment.
Old and outdated laundry equipment can be a major turn off to customers. Old washers and dryers are also more likely to break down and are less efficient, meaning they can be costing you money. As you're tidying up and evaluating other aspects of your business, it might be time to consider new laundry equipment too. There are many benefits of upgrading your laundry equipment, including increased profits and improved customer satisfaction.
Spring is a time to start fresh -- whether that means a fresh coat of paint or a fresh perspective on your business plan is up to you. Our team is here to help you with all aspects of your laundry business, from maintenance to new equipment. Contact one of our laundry experts to discuss your business needs.
Tagged: Laundromats Customer Service