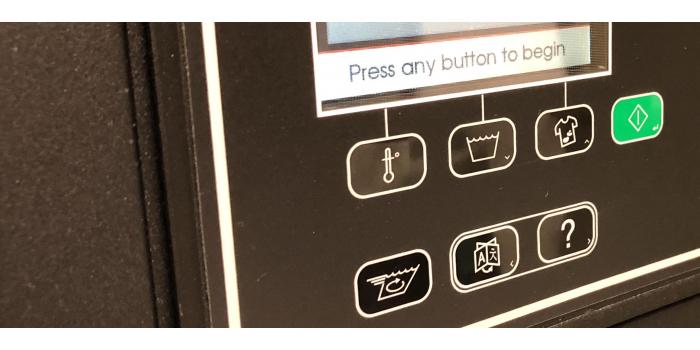 Spring is here (sort of…) and the Coin-O-Matic team is gearing up for Speed Queen Spring Forward 2018! New and veteran laundry industry investors from around the Illinois and Indiana areas are welcome to join our team at this special event on April 26th. If you haven't added Spring Forward to your calendar yet, here are a few reasons you won't want to miss it! 
1. Live Product Demos and Presentations
Our Spring Forward event is your opportunity to get up close and personal with the latest and greatest Speed Queen technology. During the event, we'll be highlighting Speed Queen's new insight software and state-of-the-art Quantum controls – and we can't wait!
The new insight business software lets you audit and program your machines right from your phone. You'll have the chance to try it out and see for yourself how the new software can save you time and help you run your laundry business more efficiently.
You'll also be blown away by Speed Queen's new Quantum Platinum line of commercial washers and dryers. You'll be able to check out the gorgeous display and unique Quantum control features (including cycle modifiers, programmable water levels, and more) that can seriously improve efficiency, lower energy and water usage, and increase your profits.
2. Special Financing Options
At Coin-O-Matic, we're dedicated to developing custom designed laundry equipment financing options that meet your business needs and budget. We're upping the game during our Spring Forward sale with special financing incentives just for attendees. You won't want to miss your opportunity to get some of the most competitive financing options in the industry, including:
90 days deferred payment
Up to 16 months interest only                                 
Interest rates as low as 6.5%
Up to 120 month terms
Our experts will also be available to answer all your laundry equipment financing questions and concerns.
3. One-Day Sale Prices and Savings
It wouldn't be a sale without slashing prices and offering discounts, right? If it's time to upgrade your commercial laundry equipment, we're offering factory rebates up to $1,200 per unit for new Speed Queen laundry equipment. We also have more than 100 pre-owned units to choose from, and we're offering 5% off washers, extractors, dryers, and tumblers on a first come, first serve basis. If you're ready to buy, then you won't want to miss this event!
4. Win $1,000
Who doesn't love free money? We're doing a $1,000 cash door prize drawing, and you could be the lucky winner. All you have to do is make any purchase at the event, including parts, and you'll be entered to win! That money could come in handy for some spring cleaning projects, summer vacation plans, or additional business investments.
5. Craft Beer
Calling all beer connoisseurs! As if all the above wasn't enough, we'll also be serving some delicious craft beer. Chicago's craft beer scene can hold its own, so you'll definitely want to enjoy a glass or two! Not a beer fan? No worries. We'll have plenty of other beverages and delicious hors d'oeuvres for you to enjoy as well. Cheers!
While there's a lot of industry resources and purchasing options available online, there's nothing quite like seeing commercial laundry equipment displayed in all its glory, meeting with laundry experts, and having a little fun in the process. Be sure to check out the event on Facebook and let us know if we'll see you there!
Tagged: Laundromats On Premise Laundry Events