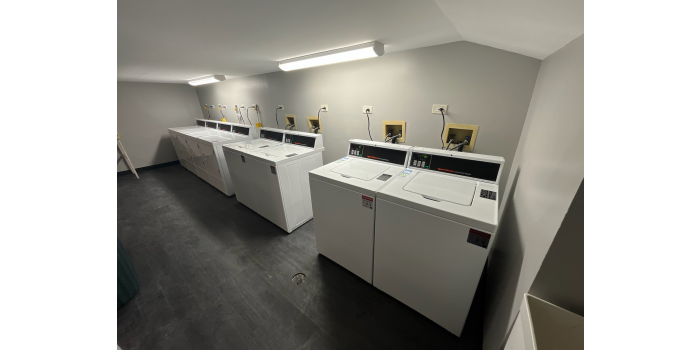 As a landlord, property owner, or investor, you've already got a lot on your plate. Between showings, paperwork and admin tasks, maintenance requests, and the other random to-do's that come with owning or maintaining a property, the last thing you want to think about is the property's shared laundry. Many things can go wrong in the shared laundry room at your property without proper maintenance, causing both you and your tenants to become frustrated and overwhelmed. 
Lease your laundry room with the expert team at Coin-O-Matic to upgrade your laundry room and remove the added stress from your plate. When you lease, we supply state-of-the-art, energy efficient commercial laundry equipment and handle any maintenance and repairs that the laundry equipment may require. Plus, we handle the coin collection. 
Check out how leasing your multi-housing laundry room can put a positive spin on the following issues multi-housing owners commonly face.  
1. Inefficient Commercial Laundry Equipment 
Older washers and dryers are not designed as efficiently as newer models and  create higher energy and water costs. 
With rising inflation, energy and water costs are expected to reflect that. The Multi-Housing Laundry Association (MLA) notes that the average multi-housing laundry room will use about 69 gallons of water per unit per week. That's a lot of water, so updated laundry equipment that focuses on efficiency will help you to save money! 
When you lease your multi-housing laundry room to Coin-O-Matic, we'll provide you with the latest and most energy-efficient commercial equipment. Our Speed Queen and Maytag washers and dryers are some of the most trusted names in the laundry equipment industry. 
You can trust that the machines running in your multi-housing unit are top-of-the-line energy-saving models, and your tenants will love that they can trust the on-site machines. 
2. Your Multi-Housing Laundry Room is Consuming Time
When you're focused on the numerous day-to-day tasks of running a rental property and back and forth with residents and potential tenants, the last thing you want to worry about is collecting money from your commercial laundry equipment. Laundry room leasing takes the collection and money management off your plate. 
Leave it to Coin-O-Matic to take that stress off your plate. We can collect the cash and coins from coin-operated laundry machines, eliminating a time-consuming task that you'd otherwise have to handle yourself. Overall, helping you to avoid handling and collecting cash, emptying machines, driving to the bank, and tracking profits. 
3. A Large Number of Your Laundry Machines are Broken
With multiple families living in your residential properties and utilizing the laundry equipment, the machines take a beating. Time and money often goes to making repairs and upgrading each unit, which means these broken or damaged washing machines and dryers are often put on the backburner. 
If a common problem in your multi-housing laundry room is broken machines and costly repairs, consider renting the space to Coin-O-Matic. We will handle the maintenance and upkeep of the commercial laundry equipment, decreasing the amount of time that machines are down and not bringing in money. 
When machines are repaired and operational quickly, tenants will be happier and more comfortable in the space. As such, it may help reduce frustration, broken leases, and unit turnover, which cut into your profits. Plus, residents won't have to go to a nearby laundromat, which means you'll reap the profits rather than another business.  
4. Laundry Payment Systems Aren't Up-To-Date
Constantly needing coins or cash can be annoying for your tenants. Making a stop at the bank to receive coins, or collecting coins over the course of the week to do your laundry, can be frustrating. Today, it's much more common to pay with a card or a smartphone app. 
According to an article from CNBC, a study of more than 2,000 Americans found that 50 percent of them carry cash less than half the time they're out. They also note that 1 in 10 millennials use their digital wallet for purchase. 
It is becoming more common in the laundry industry to offer updated, easy-to-use payment systems. At Coin-O-Matic, we'll work with our laundry room leasing customers to provide laundry equipment that offers payment types such as a smartphone app, credit or debit card, or smart card in addition to cash and coins. 
These different payment types make it easy for your tenants to pay for their laundry. And when it's easy and convenient to use, they tend to use the equipment more. Plus, cashless options are generally easier to track and manage, making it more convenient for you as well.
Lease Your Multi-Housing Laundry Room Today!
Let us help you make your laundry room more inviting for tenants and take all the work off your plate. It's a win-win. Coin-O-Matic offers customized revenue-sharing options for multi-housing laundry room owners. Contact our leasing specialists today! Our team will develop a personalized proposal that is right for your business.
Tagged: Multi-Housing Laundry On Premise Laundry Commercial Laundry Equipment